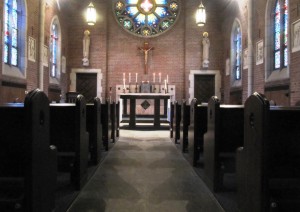 Rodman Hall Chapel is located in Rodman Hall, which houses the Admission, University Advancement, Human Resources, and Information Technology Services departments. Rodman Hall was formerly the residence of the Jesuit community of John Carroll and the chapel was used by the community during this time. Built in 1938, it is named after Rev. Benedict Rodman, S.J.
Rev. Rodman was President of John Carroll University from 1928-1937, and was highly instrumental in the development of the new university campus. The chapel was dedicated in January 1940. The stained glass windows and furnishing were provided through the generosity of the John Carroll Guild of 1954.
In 2000, Rodman Hall was renovated and the Jesuit community moved to a separate location across the street known as Schell House. In 2007, under Rev. Robert Niehoff, S.J., President of John Carroll University, Rodman Chapel was updated, including the installation of new kneelers and a complete restoration of the stained glass windows.
Rodman Hall Chapel is used for daily mass on Tuesdays and Thursdays during the fall and spring semesters and for other Eucharistic celebrations throughout the year.