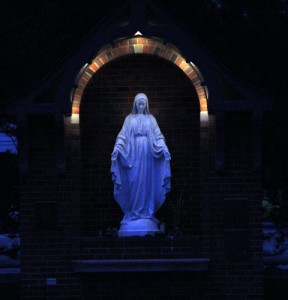 Beaudry Shrine
The Beaudry Shrine is located between Bernet Hall and the Boler School of Business. The Shrine was dedicated on October 28, 1951, in memory of Bob Beaudry, class of 1950.
In his senior year at John Carroll, Bob Beaudry was president of Alpha Sigma Nu and the Boosters' Club. He was a member of the Sodality, now known as Carroll Faith Communities (CFCs), for each of his four years at John Carroll. He was a dynamic student leader who was included in Who's Who in American Colleges and Universities for two years.
After graduation Bob continued his studies at Georgetown University Law School. In the spring of 1951, on his way home to Chicago for a visit, he was killed in an airplane crash near Pittsburgh.
Since Bob Beaudry's name and memory represented that intangible quality — school spirit — it was decided to build a memorial. The shrine to Our Lady, Mother of Grace, was made possible by contributions from Bob's family and friends. In 1951, the Sodality initiated the Robert Beaudry Award, in honor of their deceased member. This award is given to a graduating senior who exemplifies a commitment to leadership and faith.
James Davis Garden
This is a peaceful sanctuary tucked in near the Garden Level entry to the Administration Building. The Dawn Redwood and Scotch Pine provide the canopy for magnolia, dogwood, American Holly and a variety of shade loving ground covers and plants including the state wildflower, Trillium.
Hidden Meditation Garden
This is a truly hidden retreat tucked between the brick structures of the O'Malley Center and B Wing.  The small courtyard offers an outdoor private respite in the middle of our campus.
Interfaith Prayer Room
This room on the third floor of the library is open to any student seeking a space for reflection and is often used by Muslim students for their daily prayers.
Click here for a map to all the reflection spaces accessible to the public.