John Carroll offers The Rite of Christian Initiation of Adults (RCIA) program for students interested in preparing to receive the sacraments of initiation. After a year-long period of preparation, the student receives the sacraments either at the Gesu Church Easter vigil or at the vigil celebration of the student's home parish.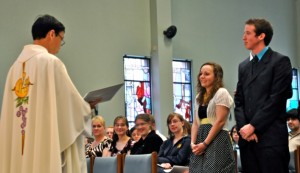 Baptism of children of John Carroll employees or of children of alumni must be arranged through Gesu Church and must comply with all Diocesan guidelines.
Please contact Gail Roussey if you are a Catholic and have been baptized, but have not received any other sacraments and you are interested in receiving First Eucharist and Confirmation.