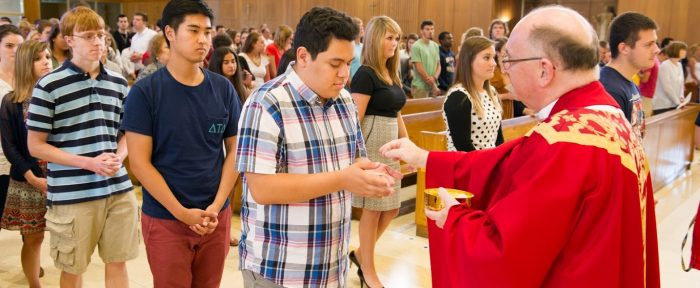 Mass is held on campus Sunday through Friday during the academic year. Mass times change occasionally based on the academic schedule and other events on campus.   During the summer break there are no regularly scheduled Masses on campus.  The normal schedule will resume on Sunday, September 1st with Mass at 6 pm and 9 pm in St. Francis Chapel.  On Labor Day there will be no weekday Mass.
Sunday Mass Schedule
Saint Francis Chapel: Sunday at 6pm and 9pm
Gesu Parish: 4:30pm Saturday;  8 am, 10 am and 11:30 am Sunday
---
Daily Mass Schedule
Daily Mass is held during the academic year on campus.  The first week for daily mass will start with Monday, August 29, 2016 with the 12:05 pm Mass in St. Francis Chapel.
The Lady Chapel (Saint Francis Chapel):
Monday, Wednesday and Friday at 12:05pm
Murphy Mass:
9:30pm on Wednesdays in Murphy Hall Chapel
Rodman Chapel:
Tuesday and Thursday at 12:05 pm
Parking: If you are attending John Carroll for daily Mass, please enter the campus through the Carroll Gate (near Dolan Science Center) and ask the parking guard for a visitor's pass for Mass.
Gesu Parish:
6:45am and 8:30am;  7am at Carmelite Monastery (Saturday)
       Anointing Mass: 12:00 pm on the third Wednesday of each month
       Legal Holidays: 10:00 am only
* Reconciliation is held at 3:00 pm on Saturdays, or by appointment.
---
Holy Day Mass Schedule*
Saint Francis Chapel: 12:05 pm, and 5:05pm
Gesu Parish: 6:45am, 8:30am, noon, 7pm.
* subject to change
---
Sacraments
John Carroll offers the sacraments of Eucharist, Reconciliation (Confession), Baptism (preparation through RCIA), Confirmation, and Marriage. These sacraments are recorded at Gesu Parish, our Diocese of Cleveland parish of record. Please Contact Gail Roussey for more information regarding the following sacraments.
Reconciliation (Confession)
Penance services are held each semester (especially during Lent and Advent), followed by the opportunity for individual confession.
Our regular confession schedule during the academic year is as follows:
Thursdays – Rev. Bernie McAniff, S.J.- Rodman Hall Chapel 4 p.m.-5 p.m.
Confessions are also heard weekly in the Church of the Gesu, located at 2490 Miramar Boulevard, at 3 p.m. on Saturdays (until the 4:30 mass) or by appointment.
Baptism & First Eucharist
John Carroll offers The Rite of Christian Initiation of Adults (RCIA) program for students interested in preparing to receive the sacraments of initiation. After a year-long period of preparation, the student receives the sacraments either at the Gesu Church Easter vigil or at the vigil celebration of the student's home parish.
Confirmation
John Carroll campus ministry staff will prepare students for Confirmation in the Roman Catholic Church. Confirmation is an eight-week program that also includes a service and retreat requirement. Students generally receive the Sacrament of Confirmation at Gesu Church in April. They may also elect to receive Confirmation at the Cathedral of Saint John in Cleveland at the vigil of Pentecost.