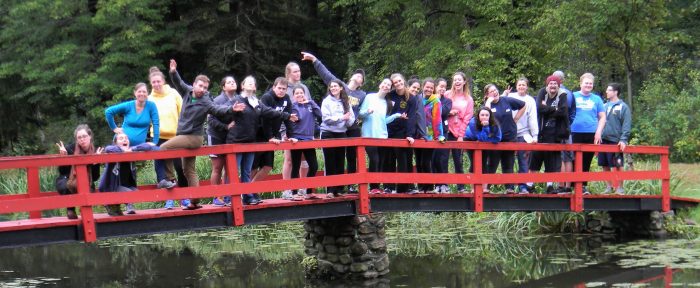 CFCs are small faith communities grounded in spirituality and community. They are a safe place to reverence the individual experiences that bind us together. Groups consist of 8-10 members who gather weekly for faith-filled conversations, prayer, and reflection as they seek to integrate their faith with the realities of everyday life. CFCs are facilitated entirely by peer leaders. Students of all faith backgrounds are welcomed and encouraged to join our vibrant community! We are one of the largest student organizations on campus with approximately 200 students involved every year.
Mission Statement: We form an intentional, student-led community that inspires and connects individuals through meaningful conversations, reflections, and actions rooted in the Jesuit values of spirituality, community, and service as we grow in faith together as one John Carroll community. 
 We try to accommodate everyone's schedule as best we can. Sign up here at any time, and we will help connect you to a group.
---
If you have any questions, please feel free to contact anyone on our Leadership Team:
Brianna Chlosta, President (bchlosta20@jcu.edu)
John Heistercamp, Event Coordinator
Mary Rose Flynn (abroad)/ Kathryn Scarvelli, Spiritual Chair
Danielle Brinkmann, Social Media/ Retreats
"To reveal myself openly and honestly takes the rawest kind of courage." 
– Rev. John Powell, S.J.