Since Bob Beaudry's name and memory represented that intangible quality — school spirit — it was decided to build a memorial. The shrine to Our Lady, Mother of Grace, was made possible by contributions from Bob's family and friends.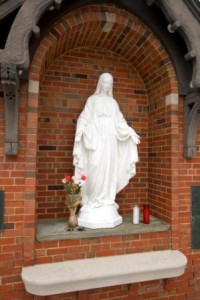 The Shrine was dedicated on October 28th, 1951, as the main event of Parents' Day that year. Among the hundreds that attended the dedication of the Shrine were Bob's mother and fiancée. The Shrine is located between Bernet Hall and the Boler School of Business.
In 1951, the Sodality (currently CFCs — Carroll Faith Communities) initiated the "Robert Beaudry Man of the Year Award," in honor of their deceased member. The award, from that time onward, was to be given to a graduating senior who exemplified a commitment to leadership and faith. When John Carroll University became a co-educational institution, the award, open to both men and women, was renamed "The Beaudry Award."
The award honors an individual who exemplifies the ideal of Jesuit education: a man or woman for others.
Nominations for the Beaudry Award
The award is given to the graduating senior who has been voted by his or her senior class as most deserving of this honor. This award is presented at the Commencement ceremony in May.
The Beaudry Award recognizes outstanding service in the following areas:
Leadership
Commitment to Christian values
Academic achievement
Service to the University and/or greater community
Any student, faculty, or staff may nominate an individual.
The Beaudry Award Committee, comprised of faculty, administration, and staff representatives from a variety of departments reviews all nominations and determines a final voting ballot based on the criteria stated above. Only graduating members of the senior class will be permitted to vote.
2018 – KTB English
2017 – Adrianna Gradisek
2016 – Patrick Vecellio
2015 – John Barrett
2014 – Ty McTigue
2013 – John N. Jackson
2012 – James R. Haitz and Jeffrey M. Hatgas (tie)
2011 – Andrew R. Vogel
2010 – Emily N. Ferron
2009 – Peter Anthony Niro
2008 – Patrick Carpenter
2007 – Erin Grzegorzewski
2006 – Douglas Phillips
2005 – Sarah Wagner
2004 – Peter V. Range
2003 – Ed Giles
2002 – Eric P. Schild
2001 – Trena Marks
2000 – Melanie A. Shakarian
1999 – Meghan C. Rogers
1998 – Grant Mast
1997 – Tim Hanchin
1996 – Jason McMinn
1995 – Patrick Klus
1994 – Kevin Biacsi
1993 – Anne M. Tirpak
1992 – Joe Cimperman
1991 – Meg Langdon
1990 – Brian Keith Adams
1989 – James K. Kenny
1988 – Brian E. Stiltner
1987 – Mary T. Kesicki
1986 – Michael R. Anderson
1985 – Marie E. Mozzi
1984 – Peter A. Francel
1983 – Peg Mahon
1982 – Mary Kay Merk
1981 – Laura C. Lanza
1980 – David T. Kusner
1979 – Maureen T. Rose
1978 – Ara Bagdasarian
1977 – Patrick M. Cummings
1976 – Mary Jo Casserly
1975 – Lou DeMarco
1974 – Terrence Dwyer
1973 – Elias Naffah
1972 -Timothy Russert
1971 – James H. Grendell
1970 – Donald Brown
1969 – George Mackey
1968 – Philip Giacinti
1967 – Richard W. Tomc
1966 – R. John Fox
1965 – Christopher Zegers
1964 – James Bachmann
1963 – Gary J. Previts
1962 – John C. Wanamaker
1961 – Edward Parks
1960 – Gerald Schweickert
1959 – J. Peter Fegen
1958 – Gerald Porter
1957 – Charles Novak
1956 – Raymond Reilly
1955 – George Sweeney
1954 – Nicholas DeCaprio
1953 – Thomas Dugan
1952 – Jerome Miller
1951 – Lawrence Badar