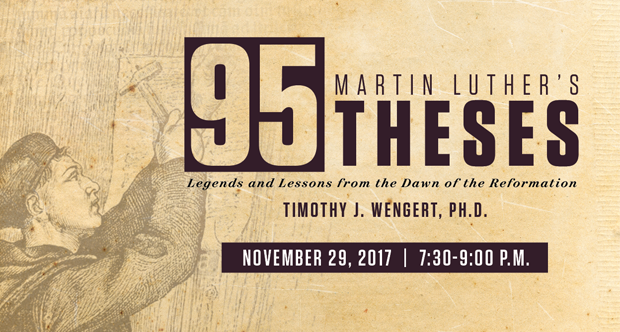 Martin Luther's 95 Theses
Legends and Lessons from the Dawn of the Reformation
Dr. Timothy J. Wengert
Emeritus Professor of Reformation History
Luther Theological Seminary, Philadelphia
Long before scholars called into question the posting of the 95 Theses, legends concerning their origin and intent flourished on both sides of the ecumenical divide, so that the Theses themselves had become a cipher into which succeeding ages poured their own meaning.  By a close reading of the text and context of the Theses, Dr. Wengert will shed new light on Luther's purpose in writing them, giving reasons why both Lutherans and Catholics could rightly join in commemorating their 500th anniversary.
November 29, 2017, 7:30pm
Donahue Auditorium, Dolan Science Center
John Carroll University, University Heights, OH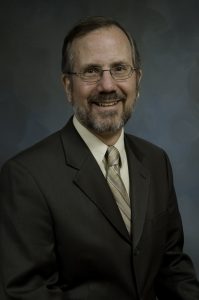 Timothy J. Wengert is Emeritus Professor of Church History at the Lutheran Theological Seminary in Philadelphia.  A parish pastor for seven years in Minnesota and Wisconsin, he received his doctorate from Duke University in 1984 and taught on Philadelphia's faculty from 1989-2013.  He has written extensively on the Reformation, was co-editor of the English edition of The Book of Concord and translated Luther's Small Catechism, which is widely used throughout the Evangelical Lutheran Church in America.  In addition to several books on Philip Melanchthon, he published a study of early Lutheran disputes over justification (Mohr Siebeck, 2012). He is general editor of The Dictionary of Luther and the Lutheran Traditions (Baker, 2017).  He also co-authored (with Susan Wood) a book on Lutheran/Roman Catholic relations, Shared Spiritual Journey (Paulist, 2016) and edited the first volume of The Annotated Luther, from which his translation of the 95 Theses has also appeared separately (Fortress, 2015).
---
Sponsored by the Jack and Mary Jane Breen Chair in Catholic Theology, with the Institute for Catholic Studies and the Department of Theology and Religious Studies at John Carroll University.
---
For directions to campus and parking information, click here.
For further information contact Dr. Edward Hahnenberg at ehahnenberg@jcu.edu or 216.397.4700.
---