The Boler School of Business at John Carroll University is founded on the Jesuit tradition of educational excellence. We strive to instill a passion in each of our students so they leave John Carroll ready to make a difference in business and in the world.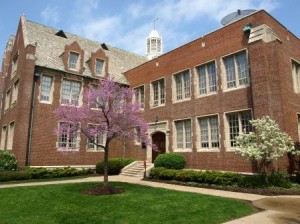 1886: The College opens under the name Saint Ignatius College.
1923: College's name changes to John Carroll University to commemorate the Jesuit who became the first bishop of the United States.
1934: The Business Administration faculty established in College of Arts and Sciences.
1935: John Carroll University relocates to its current Cleveland suburb location in University Heights which includes an official Department of Business Administration.
1945: Department expands into the School of Business, Economics, and Government.
1957: The department's name officially changes to School of Business.
1974: The School adds Graduate Programs in Business and initiates the Masters of Business Administration program.
1988: The School is accredited by the Association to Advance Collegiate Schools of Business (AACSB) at both the undergraduate and graduate levels.
1989: An endowment-funded renovation of the School of Business takes place, adding the Bruening Hall wing.
1994: The Department of Accountancy receives AACSB Accreditation.
1995: The School of Business celebrates its 50th anniversary.
1996: The School honors the generosity of John M. and Mary Jo Boler by renaming itself the John M. and Mary Jo Boler School of Business.
2001: The first Commencement of the Masters of Science in Accountancy graduate business program takes place.
2004: The M.B.A. program celebrates its 30th anniversary.