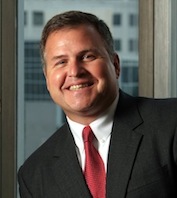 Dr. Alan Miciak has been appointed
as Dean of the John M. and Mary Jo Boler School of Business. Dr. Miciak will begin serving as dean in July
2015. He also will be appointed as a tenured Professor of Marketing.
Dr. Miciak was previously a professor of marketing at Duquesne University and served as dean of Duquesne's Palumbo and Donahue School of Business
(2005-2013). Dr. Miciak has a long record of success that includes leadership roles in academic affairs, accreditation, program development, fundraising, university governance, and community engagement.
Innovation and collaboration are at the core of Dr. Miciak's professional achievements, including the introduction of Duquesne's "Sustainability MBA", ranked in the Top 20 MBA programs by the Aspen Institute for providing the economic, social, and environmental perspectives required for business success in a global economy. He was named as one of the "100 Most Influential People in Finance" by Treasury and Risk Magazine in 2008.
He began his business career with Unisys Corporation in Detroit where he was a national accounts representative in the industrial and commercial systems division. He earned his MBA at the University of Toledo and received his Doctor of Philosophy degree from the Graduate School of Management at Kent State University. In 1993, he was director of the Alberta-Haskayne Executive MBA program for the University of Calgary. In 2002, he served as dean of the Sobey School of Business at Saint Mary's University in Halifax, Canada, where they became one of the first AACSB Accredited Business Schools in the Maritime Provinces.