JCU Accountancy Team Places Third in the National Finals of the Deloitte Tax Competition!
This past October, Deloitte held a national tax competition involving 80 teams from across the country. John Carroll's team, Nicholas Bottiggi '12, Matthew Curry '14, Eric Davis '12, Christopher Eggleton '12, and Matthew Stradiot '14, placed first in the region. On Saturday, November 19, the National Competition was held at Deloitte University — located just outside Dallas, Texas. The top nine teams from across the country attended to compete. We are delighted to announce John Carroll's team has placed third in the nation for the 2011 Deloitte FanTAXtic Competition. The team is coordinated by Dr. Jerry Weinstein, and Professors George G. Goodrich and Ann Lee serve as team advisors. Congratulations to all involved on this wonderful accomplishment!
The following Universities participated in the National Competition:
Baylor University
Brigham Young University
Fordham University
John Carroll University – Placed Third
University of Missouri
University of Southern California
St. John Fisher College
University of Texas – Austin – Placed Second
College of William & Mary – Placed First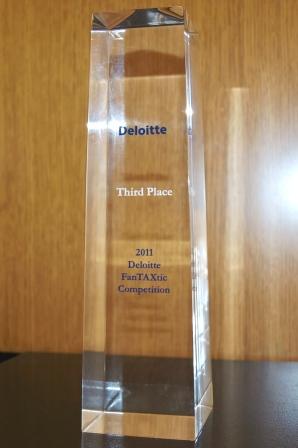 Do you know a student that has a story to tell? Send us an email about an academic, professional, spiritual, or unique accomplishment of you or another Boler student.