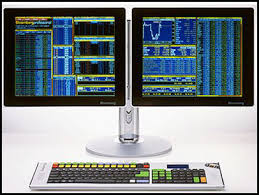 BLOOMBERG PROFESSIONAL® is a real-time financial service that provides current and historical data and financial analysis on approximately 5 million bonds, equities, commodities, currencies and funds. The electronic library comprises data on almost every publicly traded company and biographies of more than 1 million people. The system also provides news, price quotes, analytics and messaging across its proprietary, secure network from over 174 countries and 360 exchanges. Bloomberg market coverage includes: governments, preferred, corporate bonds, mortgages, money markets, municipals, equities, commodities, indices, currency, and derivatives. Everything is provided in single source, so information can be accessed, analyzed or archived with just a few keystrokes or clicks.
At least 310,000 Bloomberg terminals are used by investment professionals around the world in over 174 countries. Corporate recruiters are seeking candidates with competitive financial technology skills. Employers place great emphasis on having well-trained employees. In an increasingly competitive market, the more tools you have in your arsenal, the better.
To access Bloomberg, you must reserve time here and use the Bloomberg terminal located in the Boler School of Business Computer Lab (SB-235).
You can find instructions to create a Bloomberg account here.
Bloomberg Institute® offers the Bloomberg Market Concepts (BMC) an 8 hour self-paced e-learning course that provides a visual introduction to the financial markets. BMC consists of 4 modules – Economics, Currencies, Fixed Income and Equities – woven together from Bloomberg data, news, analytics and television.