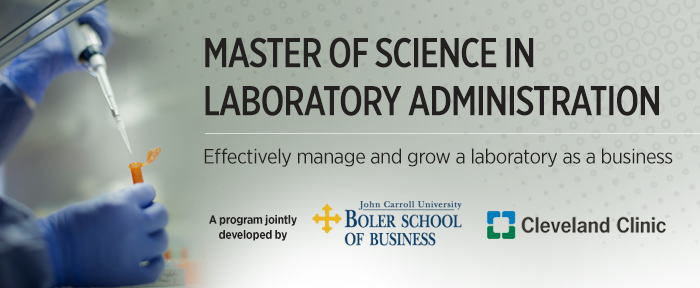 John Carroll University's Boler School of Business is pleased to announce a new Master of Science in Laboratory Administration (MSLA) program, developed jointly with the world-renowned Cleveland Clinic.  This exciting and exclusive program provides its graduates with the necessary skills and knowledge to effectively run a laboratory where quality with profitability is the primary performance metric.
Why Earn Your MS in Laboratory Administration?
Careers in the medical field are booming. People are living longer and medical technology is improving at an unprecedented pace—creating the need for highly skilled professionals.
While experienced laboratory technologists are the preferred candidates for laboratory management positions, many organizations now require (or strongly encourage) a graduate degree as the gateway for these leadership positions. Unlike other general graduate business programs, the MSLA degree provides the skills necessary to tackle the challenges and opportunities specific to a laboratory setting.