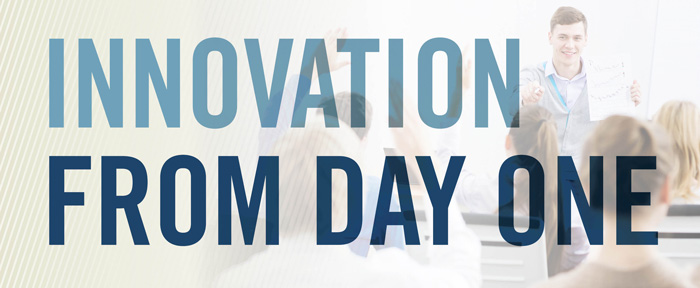 The Part-time Boler MBA brings together academic knowledge and real-world business experience to empower students to become stronger business leaders. Students connect to engaged faculty, highly motivated student peers, successful alumni, and the Greater Cleveland business community in unique and powerful ways.
For example, our core MBA classes begin with a real-world business challenge posed directly from Northeast Ohio-based companies. Students are expected to propose and present solutions to area business leaders.
Further, and unlike other MBA programs, our integrated track courses are team taught by expert academic faculty and seasoned business professionals. Several business disciplines are combined into each class to enable students to quickly assess real-world business problems and implement the best strategies.
The program is designed specifically for working professionals with two or more years of experience seeking a challenging MBA for career advancement and leadership development. Our goal is to help students transform their lives and their organizations through knowledge—ethically and with integrity. Specifically, this program is designed so students can:
Be conversant in the integrative nature of the functional areas of business at the managerial level.
Communicate qualitative, quantitative, and financial ideas and plans effectively in oral and written forms.
Establish a set of tasks necessary to develop an effective solution to business challenges in a variety of ambiguous or uncertain situations.
Identify, measure, and evaluate performance metrics for the organization.
Understand leadership concepts, be able to identify appropriate courses of leadership action and effectively follow through with those courses of action.
Evaluate the ethical and socially responsible dimensions of business problems and develop ethical and socially responsible solutions to those problems.
Generate and design value-adding innovative ideas that contribute to the success of the organization.
Identify and develop resources needed to create an effective strategy and be able to implement that strategy to secure the future success of the organization.
Classes are on a part-time basis (mostly in the evening) to accommodate the schedules of our busy adult learners.