Joseph Cody '10
Medical student, Lake Erie College of Osteopathic Medicine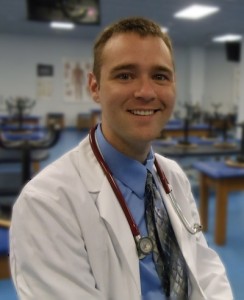 When I graduated from John Carroll University in 2010, I knew that the education I received was far more comprehensive than the sciences of biochemistry and molecular biology. I was certainly challenged academically. Without reservation, I can say that the rigors of Dr. Chai's biochemistry course and Dr. Lissemore's molecular genetics course have made these subjects more of a leisurely, dare I say enjoyable, review in medical school rather than a strenuous first-time learning experience. Moreover, the Jesuit mission of education did not stop at academics. The Jesuits have a saying, "cura personalis," which translates into English as "care of the whole person." John Carroll nurtured me as a student with this perspective and encouraged me to care for others the same way.
Care of the whole person – mind, body, and spirit – is also essential to the philosophy of my current studies in osteopathic medicine. In fact, the motto on the crest of my college, the Lake Erie College of Osteopathic Medicine, is "Totam Personam Curamus," or "We Care for the Whole Person." I remember back when I was a freshman at John Carroll, Father Niehoff gave a homily explaining "cura personalis." Little did I know that his words would prove to be so valuable as a medical student and future physician. Now as a medical student it is clear that both my education and time spent at John Carroll have been invaluable, an experience I will carry for the rest of my life.