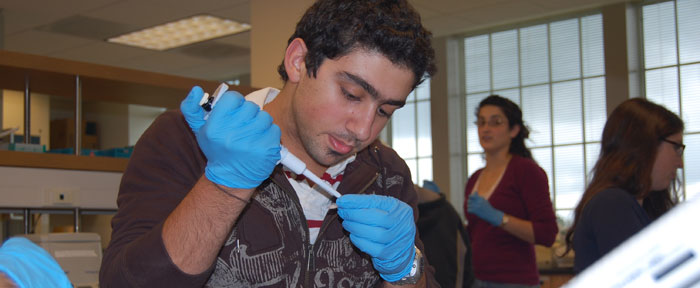 The cell and molecular biology major builds upon current strengths in both the Biology and Chemistry Departments, with emphases in genetics, biochemistry, cell biology, and mathematics. Additionally, there is a strong focus on helping students develop laboratory skills required for basic and applied research.
The major is for students seeking careers in medicine, biomedical research, biotechnology, pharmacy, healthcare, teaching, and other professions requiring a strong foundation in cellular and molecular processes.
Of course you'll learn basic biological and chemical principles, such as cellular respiration and photosynthesis, transport processes, and DNA replication, and build foundational skills in your first year. After these introductory courses, you'll explore more deeply subjects such as genetics, biotechnology, cell biology, and microbiology.
The major prepares you for graduate programs in cell biology, molecular biology, genetics, microbiology, pharmacology, and biochemistry.
For specifics on the cell and molecular biology major, including a course list, visit John Carroll's Undergraduate Bulletin.  Students must earn a C- or higher in all courses for the major and a 2.0 quality point average in support courses.