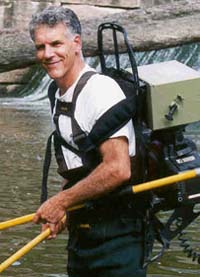 Professor
Degrees: B.S. in Biology, University of Notre Dame
M.S. in Biology, John Carroll University
Ph.D., The Ohio State University
Expertise: Evolutionary relationships among freshwater fishes, especially cyprinids; ecology of urban streams
Dr. Miles M. Coburn was a beloved faculty member in the Biology Department of John Carroll University.  Trained as an ichthyologist, Dr. Coburn's area of expertise was in the morphology and systematics of cyprinid fishes.  He also was an avid environmentalist, which informed both his research and teaching.  Working with his graduate students, he restored native fish populations to Doan Brook, near the University.  He also brought attention to the threat of global climate change, developing a course for Biology majors as well as a first year seminar on the topic.  His courses were known for their rigor and their student-centered approaches.  Dr. Coburn was highly respected at the University, serving as Chair of Faculty Council as well as on numerous university committees.  He received the Distinguished Faculty Award in 2003.  Dr. Coburn also was strongly committed to increasing diversity in the sciences.  In collaboration with Dr. Gloria Vaquera (Sociology and Criminology) and La Segrada Familia Parish, he developed Project QUE, a summer science and math enrichment program for Latino students in grades 6-8.  This program is now in its sixth year.
Providing the lead gift supporting this professorship, his spouse Peggy Spaeth has said, "I cannot think of a better way to honor my husband, Miles, than to teach even more people to act now about global climate change in his memory. Perhaps, in some unfair way, he is reaching even more people than before as a teacher. So in his memory, educate yourself and act about global climate change."
Selected Publications
Mabee PM, E.A. Grey, G. Arratia, N. Bogutskaya, A. Boron, M.M. Coburn, K.W. Conway, S.P. He, A. Naseka, N. Rios, A. Simons, J. Szlachciak, X.Z. Wang.  2011.  Gill arch and hyoid arch diversity and cypriniform phylogeny: Distributed integration of morphology and web-based tools.  Zootaxa 2877: 1-40.
Ward, S. A., and M. M. Coburn. Stepwise increases in maximum prey size of larval creek chubs, Semotilus atromaculatus, in an urbanized Ohio stream. Northeastern Naturalist 15:349-362.
Borden, W.Calvin, and M.M. Coburn. 2008. Intraspecific and interspecific variation of the striated muscles in the black basses (Micropterus, Centrarchidae): A case study of myological stasis. Bull. Florida Museum of Natural History 47:109-136.
Mabee, P., M. Westerfield, M. Haendel, G. Arratia, M. Coburn, E. Hilton, J. Lundberg, C. Lushbough, R. Mayden, N. Rios. 2007. Connecting evolutionary morphology to genomics using ontologies: A case study from Cypriniformes including zebrafish. J. Exp. Zool. (Mol Dev Evol) 308B:655-668.
Coburn, M.M., and P. Chai. 2003. The development of the anterior vertebrae of Chanos chanos (Ostariophysi: Gonorynchiformes). Copeia 2003(1):175-180.
Rosati, T.C., J.R. Johansen, and M.M. Coburn. 2003. Cyprinid fishes as samplers of benthic diatom communities in freshwater streams of varying water quality. Can. J. Fish. Aquat. Sci. 60(2) 2003:117-125.