Eight students with eight acceptance letters to their first-choice medical or graduate schools. That's the impressive track record of John Carroll University students who have worked as research assistants in the laboratory of Erin Johnson, Ph.D., assistant professor of biology, during the past four years.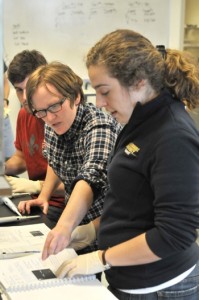 What's the blueprint for their success? Advanced, independent research experience coupled with support from a faculty mentor who collaborates with and challenges them.
Johnson, who holds a Ph.D. in medical sciences, investigates the regulation of the innate immune response to microbial challenges. Like her JCU faculty colleagues, Johnson makes it a priority to engage students in research that matters to the discipline they're studying and that makes a difference in their future.
"Dr. Johnson encouraged us to learn how to evaluate data instead of doing it for us," says Michael Lajeunesse '11, who's studying at the Penn State Hershey College of Medicine. "We had to think through our experiments, troubleshoot them, analyze them, draw conclusions, and support them. As a medical student, those skills are incredibly important."
For Nabil Madhun '12, learning biochemical research techniques in the Johnson lab helped set the stage for a summer internship at the Cleveland Clinic's Lerner Research Institute.
"Every medical school was interested in my research experience first and foremost," says Madhun, who has been accepted to Midwestern University's Chicago College of Osteopathic Medicine. "I had no idea signing up to work in Dr. Johnson's lab would be an investment that paid 100-fold so quickly."
Johnson also encourages her students to speak articulately and write effectively about their work, according to Jennifer Ludgin '14. Now in a yearlong appointment conducting stem cell research at the Cleveland Clinic, Ludgin feels confident about her abilities to communicate in the scientific field. In addition to writing scientific papers at the clinic, Ludgin is the second author of a textbook chapter, an opportunity rarely offered to someone with her level of experience. After Ludgin completes her coursework at Carroll, she'll take her talents to the George Washington University School of Medicine and Health Science.
Students also appreciate the support Dr. Johnson provides outside the lab. Kurt Hauber '10, a student at the Penn State Hershey College of Medicine, recalls when Dr. Johnson assisted him throughout the medical school application process. She advised him about which programs would be a good fit, critiqued his application, and wrote a strong letter of recommendation for him.
"It's because of Dr. Johnson I feel completely capable and equipped to handle a competitive and advanced field such as breast cancer research," says Jacob Smigiel '13, who's pursuing a master's degree in pathology at Case Western Reserve University. "I'm proud to say I'm still a member of the Johnson lab, and know with every experiment I do, I put my best effort forward."
Learn more
Posted on August 13, 2013