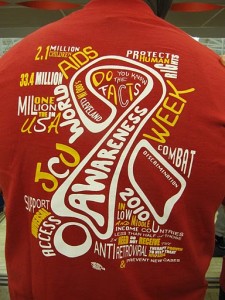 HIV/AIDS Awareness at JCU continues to bring attention to the crisis throughout the world. The events this year will include:
Monday 12/2: Hallway Giveaways Stop by
theLSC Atrium, Dolan Atrium, or Admin (by Einstein's) to pick up
your red ribbon for the week!
Tuesday 12/3: Movie Night Join us and watch "Yesterday" in the Jardine Room at 8:30pm.
Wednesday 12/4: Living Ribbon Participate in
the AIDS Awareness Living Ribbon at half-time of JCU Men's Basketball game at 7:00pm.  To participate, register here.  Free t-shirt to first 150 participants!
Thursday 12/5: Open-Mic Sing your heart out at the Open-Mic Night at 8:30pm in the Underground!  If you are interested in performing, contact kspring@jcu.edu.