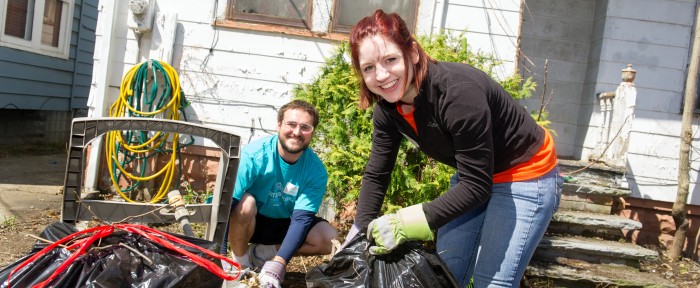 Arrupe Scholars learn about social issues by actively engaging in the world around them. Indeed, we believe that our students academic coursework is strengthened when they are able to learn from, reflect upon, and participate in meaningful off-campus learning experiences. These include:
Local Service: All Arrupe Scholars participate in weekly service-learning projects in the Greater Cleveland Area. They tutor students in Cleveland public schools, mentor local teens, provide citizenship test prep for recent refugees, assist persons with special needs, provide companionship to nursing home residents, and learn about our community by engaging in many other community-based projects. Beginning their Freshman year, Arrupe Scholars work with JCU's Center for Service and Social Action to identify an off campus service-learning opportunity that is that is meaningful to their course of study. (For a list of our current community partners click here)  By reflecting upon their service-learning initiatives in the classroom, our students are thus given a context and framework with which they can begin to understand the problems and challenges faced by those in our local community.
Global Learning: Arrupe scholars also participate in experiential learning opportunities that allow them to explore their understanding of social justice through a number of global contexts. While these experiences differ by student, most Arrupe scholars participate in at least one of the following global learning opportunities during their time at John Carroll:
 Arrupe Scholars participate in international and domestic immersion experiences sponsored by Campus Ministry at JCU. Recent experiences have included students learning about fair trade in Guatemala, performing long-term hurricane relief in New Orleans, LA, working with a Women's Cooperative Nepal and doing community organization work with a coalition of farm workers in Immokalee, FL.
Arrupe Scholars participate in study abroad opportunities sponsored by JCU's Center for Global Education. Some students chose to go on short study courses which, take them abroad for a few weeks, while other students prefer to devote an entire semester to learning abroad.