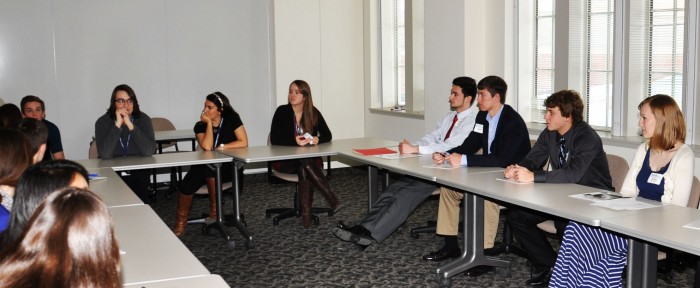 Arrupe Scholars are challenged to grow intellectually in a variety of ways over the course of four years.The program provides a structure for students to integrate their experiences from three areas, including designated courses, external and internal engagement.
Scholars are required to take the following courses in connection with the Arrupe program:
Five "Integrating Courses" – One credit courses focused on the program learning goals taught by a diverse collection of faculty and administrators from across campus.
Three "Designated Courses" – Three credit courses with a strong emphasis on service, social justice, or advocacy.  These courses may also meet requirements for the core curriculum, a scholar's major, minor, or concentration, elective credit, or the Honors Program.
EN 111 and EN 112 – Scholars take their first year English composition and rhetoric series as a cohort. Both courses have thematic focuses that relate to the goals of the Arrupe program.