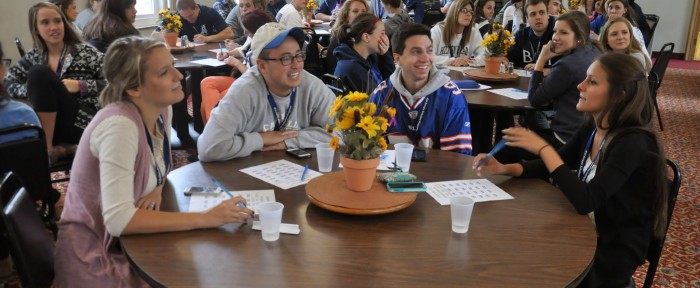 John Carroll University is committed to inspiring individuals to excel in learning, leadership, and service in the region and in the world. The Arrupe Scholars Program is a mission-based scholarship and learning opportunity tailored specifically towards creating leaders for social action. Rooted in the wisdom of our 450-year-old Jesuit heritage, this program aims to produce graduates that are both trained in the academic study of inequality and committed to using their knowledge and abilities for the promotion of justice.
In order to do this the Arrupe Scholars Program challenges students to grow in the following four areas:
INTELLECTUAL DEVELOPMENT
Students will develop their intellectual curiosity.  They will seek to analyze social justice issues from the viewpoint of multiple academic disciplines and ask questions that help them to understand the complex social, cultural, political, economic, and moral dimensions of injustice.
ACTIVE REFLECTION
Arrupe Scholars will be reflective learners. They will seek to integrate their curricular and co-curricualr learning experiences, using them to inform their understanding of social justice issues.
COMMITMENT TO SOLIDARITY
Arrupe Scholars will demonstrate a commitment to social action grounded in sustained engagement with people facing injustice. The job of an Arrupe scholar is not simply "to help others" but rather, to learn from our community partners and bear witness to the suffering of those facing injustice in our world.
ADVOCACY
Arrupe Scholars will apply their knowledge and abilities to advocate for positive social change. Through course work and experiential learning projects Arrupe Scholars will develop knowledge and skills necessary to be a voice of support for those facing injustice in our world. During their four years at John Carroll students will identify a particular area of injustice — for example, human trafficking, fair trade, wrongful convictions, or environmental justice– that they will concentrate their efforts upon. Students will then construct and carry out an action and advocacy project as the capstone experience of the Arrupe Scholars Program.
To see how our students have put these learning goals into action this semester, click on the link below for the most recent copy of our newsletter.