December 2, 2016
Jeff Piorkowski/special to Cleveland.com
"John Carroll University's Arrupe Scholars Make Sure The Hungry are Fed"
UNIVERSITY HEIGHTS, Ohio — In recent years, it's become a well-known ritual to University Heights residents.
First, residents receive a letter asking for donations of canned goods for those in need. Then, a couple of weeks later, a small army of John Carroll University students come to their doorsteps and collect those donations.
What comes after that, however, is not seen by many. With the volunteer help of the people from Parma Movers, the boxes of food collected are taken to the Fatima Family Center, 6600 Lexington Ave., in Cleveland's Hough neighborhood.
"We have maybe 20-25 volunteers who pass out the boxes of food to people who need them," said John Carroll University junior Richard Jenkins. "After working two to three months preparing to distribute the food, just seeing the people who are getting it and being able to give it to them is a feeling that no words can describe."
Jenkins, originally of Youngstown, is co-chair of the annual food drive, generated by the Arrupe Scholars Program at the college. There are about 80 Arrupe Scholars at JCU.
The program is a mission-based scholarship and learning opportunity tailored towards creating leaders for social action, and is rooted in the Jesuit heritage.
"We've (Arrupe Scholars) been doing this for at least eight years now," said junior Kaleigh Wagner, of Medina, who is chairperson of the food drive. "We feed 150 families living in the Hough area. In past years, we've fed 125 families, but we were able to do a little more this year.
"We give them one week's worth of meals. Some of them might not otherwise be able to have a Thanksgiving meal."
All of the families receive items such as milk, cheese, celery, canned goods and…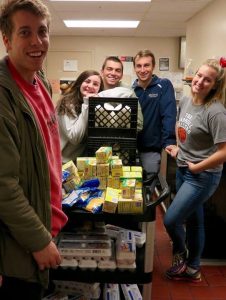 Posted on December 7, 2016
||