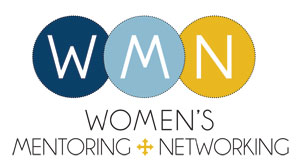 The John Carroll University Cleveland Alumni Chapter is pleased to launch a new professional development and networking group specifically geared to female professionals in our area – JCU WMN: Women's Mentoring and Networking.
JCU WMN is designed to connect alumnae throughout Northeast Ohio to networking, mentoring and business development opportunities. Unlike traditional one-on-one mentoring programs, JCU WMN will be based on the concept of mentoring circles, which will include several mentors and mentees in each group. This approach will provide some structure to the mentee/mentor relationships, but also leaves more opportunity for relationship building than a traditional linear mentee/mentor program might offer. To learn more about the program, please click here. If you are interested in participating, please click here to fill out the short application.
I hope you share my excitement for how the JCU WMN program can positively impact area alumnae who share a common bond through our experiences at John Carroll. Our team is very excited about the potential professional and personal relationships we can help effect. That said, the program is still taking shape, so we're certainly interested in your feedback, suggestions or committee help. Please feel free to contact me at cleveland@jcu.edu with any ideas you may have.
We look forward to connecting you with some amazing alumnae…
Lisa Zone '98
Senior Vice President, Dix & Eaton
VP, Leadership & Professional Development,
John Carroll University Cleveland Alumni Chapter