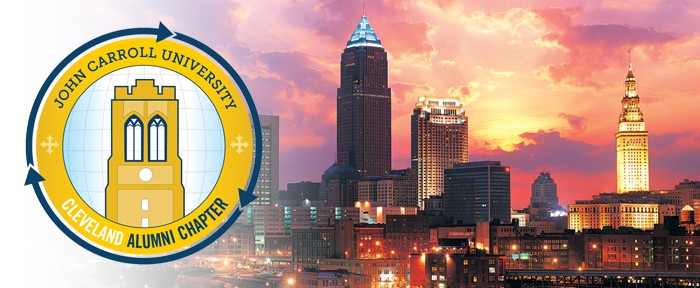 It has been nearly two years since the rebirth of the JCU Cleveland Alumni Chapter. During that time, the volunteer leadership that guides the Chapter has organized a number of events to connect with you, our classmates and fellow alumni.
Our most recent events have offered a variety of opportunities to connect with the University community. In the fall, we greeted a number of you at an alumni social at Mavis Winkle's, more than 100 alumni and guests attended the All Souls Mass and Brunch at Saint Ignatius, and dozens of alumnae are now paired in the Chapter's Women's Mentoring + Networking (WMN) program, designed to promote professional development among the participants. We sponsored a night at The Q to see the Cavs, and in early January, more than 150 alumni and friends enjoyed a performance of "Wicked" at PlayhouseSquare.
We have exciting events planned for the coming months as well. Alumni will have another opportunity to view a performance at the Playhouse when "Joseph" arrives on Saturday, March 15. We are also hosting a Mass and Meal in Little Italy at the end of March. In April, we will gather for Jesuit Day of Service at Fairhill Partners to help complete a project for this organization.
The Chapter will be hosting JCU alumnus and Parma Mayor Tim J. DeGeeter '91 on Thursday, March 20, for a discussion regarding economic development in his city, the seventh largest city in the State of Ohio.
Our Second Annual Derby Day Celebration is scheduled for Saturday, May 3, at LockKeepers in Valley View. This event is a great opportunity to celebrate the Kentucky Derby in event attire, sip a drink, and enjoy great food at one of the region's finest restaurants with Cleveland-area alumni and friends.  Proceeds from this event benefit the Carroll Fund.
John Carroll has had a lasting impact on my life. I met my wife at JCU, work for the company with whom I started as a co-op while a student, and now my wife and I have a daughter in the Class of 2017. I am honored by the opportunity to serve in my role with the Chapter and support an institution that has meant so much to my family and myself.
On behalf of the Chapter board, I want to thank you for your support of JCU. I look forward to seeing you at a future event.
Larry Oskowski '93
President, JCU Cleveland Alumni Chapter