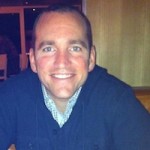 The alarm went off at 5 a.m.  It was just another Monday morning and I was almost getting accustom to my new routine of catching the 6:45 am flight to my sales geography.  Little did I know that what seemingly was a routine day would involve an event that would forever change my life.
To provide a quick introduction, my name is Jamie Wheeler and my wife is also named Jaime…spelled differently…so I'm not referring to myself in the third person.  My career at Bristol-Myers Squibb had been very rewarding over the past 10 years.  In fact, it was my first job as a sales person with BMS that forced a to move to Mansfield, OH and led me to Jaime.  I thought my life was over when I first moved to that sleepy little town, but it turned out to be quite the opposite…it was just beginning.  Since then, opportunities with the company took us back to Cleveland, paid for my MBA at Case Western Reserve and moved us to Southern California and San Francisco.  Looking back, I would say I made the right choice!
My latest position as a District Sales Manager in the Virology Division involved leading a Team of seven sales people in a geography that included the Bay Area, Washington, Oregon, Alaska, and Hawaii.  Yes, someone has to work in Hawaii!  The travel and predictability of my job were both getting to me, and my dreams of someday leaving the corporate world for my own startup were slowly fading away.
As I landed in Portland that morning and turned on my phone, I had a frantic voicemail and two text messages from my sales person that I was about to meet.  All Sales Leadership was to return home and take a conference call.  In the Pharmaceutical industry, this can only mean one thing…layoffs.  I got on the next flight and returned home just in time for the call.  The news was bigger than expected:  the two Virology Divisions would be blended into one.  To start the metamorphosis, my boss was already terminated after working at BMS for 35 years.  We were instructed to wait by the phone the next morning to see if we had jobs.  I only smoke on two occasions:  stress and Pearl Jam concerts.  I ran over to the store for a pack of Marlboro Lights and a Mountain Dew…it was going to be a long night.
The next morning, a call with the 609-area code came and it started with 'we have legal council on the line.'  After 10 years of service, I would no longer have the privilege of working for the company I loved so much.  The news hit me with mixed emotions unlike any I have ever experienced.  My life was over, as I knew it.  The friends made, the promotions earned, the life-changing course of events…these were now in a chapter of life that was now closed.  On the other hand, a new chapter could now be written with me as the entrepreneur.  As I took calls that day from work friends with their condolences, I told them of my dream to start a company.  I became more excited and empowered as I shared the news.  Instead of a funeral, I was celebrating a birth!
The idea had danced in my head since taking Finance courses at Case.  Why not create a site that allows friends and family to gift money towards a child's college education during life celebrations.  I had friends that were having babies, and it was the same story over and over.  They were getting more gifts in the form of 'stuff' than they could possibly handle, or even need.  Toys that made noises, fancy gadgets all moms 'need' but rarely use, and little clothes to be outgrown in an instant were overrunning the homes of these new parents.  Meanwhile, the cost of college continues to climb at eight percent each year.  At this rate, the cost of college doubles in price every nine years.  My startup idea was born!
The startup honeymoon lasted as long as the onesie to a baby.  It was now the second week of January, and I had been working on my new creation for two months.  I remember this week very clearly, because it tested my fortitude like no other in my professional life.  The original concept was called 'bebebank.com' and I had been working with who I had hoped would be my tech co-founder.  In addition, I had set my sights on getting accepted into a Launchpad in Los Angeles that would provide funding and guidance.  In one week, all three were gone.
First, it had become apparent that my tech co-founder, Alex, was not fully engaged with the project.  Something was missing and I decided to press him on my observations.  In my past experience as a leader, it is always best to handle things in a timely and direct fashion.  We met a few days later at a Chipotle in Santa Monica for a late dinner.  It was there that he told me he could not fully commit to the project, but would be happy to give advice as needed.  He had been burned by two other startups, and was not ready for a third.  We finished our burritos, and I wished him the best.
Second, the name 'bebebank.com' was only resonating with a select segment of population during my market research.  Ultimately, the name was not scalable and I needed to make a difficult decision.  I had already designed a great logo and secured the URL address.  Changing the name and starting from scratch seemed overwhelming, but I had to do it.
Third, I received an email late Friday afternoon from the Director of the Launchpad of interest in LA.  I was not accepted into the Spring Class.  I hadn't even officially applied, and I was getting rejected!
Over the past nine months, I have worked countless hours and have poured my heart and soul into my startup.   The name is now Gradify (www.gradify.com) and the site was launched on May 29th in recognition of the 529 Plan that is often used to save for college.  Alex and I have still talked about joining forces at some point, and have become good friends.
On the Gradify site located in the 'About' tab, you can read the following:
It has always been our philosophy that life is about three simple, yet powerful, words:  Patience, Persistence and Dreams.  Starting Gradify has required all three.  It's our dream to help kids grow up to be what they want in life.  The best way to ensure that happens is through education, while minimizing the debt that often accompanies such pursuits.  Gradify is the polite way to ask friends and family for more meaningful gifts, and we hope you enjoy your experience.