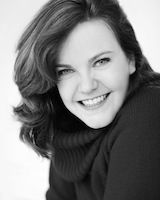 Can John Carroll really help make your career dreams come true?  It did for me! As an elementary student, I would watch news shows like 60 Minutes and 20/20 and would see the names scroll at the end of the show – stage manager, producer, production assistant.  I wanted my name on the screen, too.  At an early age, I knew that I wanted to be a part of sharing stories with millions of television viewers.
After working in local Cleveland television during my senior year of high school, John Carroll became the stepping stone to making this childhood dream a reality.  As a Communication and English major at John Carroll, I began to realize that journalism was not just a passion, but my career choice.
John Carroll gave me the book knowledge and it was time for application in the "real world."  In order to succeed in television, I needed an internship in a large metropolitan city.  So Junior year, I started applying for an internship in New York City for the summer.  I sent my resume and cover letter to dozens of television shows, producers, and networks.  I got two responses – one was from CBS News.  I started as an intern, but due to a Cleveland connection at CBS This Morning, the opportunity turned into a paid summer position. After graduating from JCU, I was hired back as an Associate Producer where I started as a booker.  If news happened somewhere in the country, I would fly there and try to book guests to be interviewed live the next day.  After about a year, I moved into the hard news center at CBS.  I worked on election nights and turned stories from all over the world for the morning news.  I was working at CBS in New York when the first plane hit the World Trade Centers on September 11, 2001.
When I was asked to write this column, I reflected on my years at John Carroll.  My Communications classes built a solid foundation for securing an internship where I could apply what I had learned.  I encourage JCU students to take your learning outside the comforts of a classroom and find an internship.  The internship jump started my entire career.  No matter what your field, it is the one opportunity to completely immerse yourself in a business – work with people, see how things are done, and decide whether or not it's the right fit for you.  Once you get the internship, actively take advantage of the opportunity.  Ask to help.  Introduce yourself to everyone.  I can't tell you how many important people I met in the hall simply because I said, "Hi.  I'm the intern. What do you do here?"  Ask questions.  Seek information.  Learn how it's done in the real world, not just in the classroom.  You will gain experience, and maybe even have a job lined up when you graduate from this great University.
Oh yeah.  And I finally got to see my name on the credits on national television!  It was only for a second, but it was there.  My childhood dream!
Rochelle is currently the Executive Producer of Special Projects at WBNS-10TV in Columbus, Ohio.