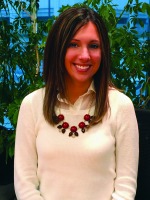 Recently during mass, our priest told a story about Giant Sequoias, or Redwoods. His description of these magnificent trees intrigued me enough to do some research, and what I learned creates an interesting metaphor and unique approach to consider during your years at JCU and beyond. So, this Communications major will attempt a brief Ecology lesson.
The Giant Sequoia tree is the planet's most massive living thing – it can stand as high as a 30-story building. Some have survived 3,000 years. These trees triumph over natural disasters. They are resistant to drought, disease, insects and fire. They are extremely fruitful, and they continue to grow as long as they live.
But despite their beauty and enormous size, it's what you don't see that makes them most remarkable. Giant Sequoias have an extremely shallow root system and can survive in less than three feet of soil. They do this by growing in groves, spreading their roots outward as far as 300 feet and intertwining them with the roots of neighboring sequoias. They adapt to their environments through a kind of magnificent cooperation, helping one another stay anchored and not competing for resources, but sharing them.
You're at college with a purpose to learn – about what you study, the industry you hope to enter and most importantly about yourself. You're investing to make yourself better, smarter and a more competitive job candidate, and your experience at John Carroll will help you accomplish all those things.
But take a moment and think about the Giant Sequoia. It didn't become the tallest, strongest, most enduring living thing by acting alone. Similarly, it's the bonds you form with people that will develop and nurture your most meaningful qualities.
For me, it was the first professor I met who, knowing me for five minutes, put trust and confidence in me and offered me a work study position. He guided me to my career and helped even after graduation. I asked another trusted professor to be my JCU advisor. She was a true confidant offering valuable advice. A Jesuit priest sat with me for hours and gave me a new perspective on my faith as he guided me through the practice of Ignatian Spirituality. And I met lifelong friends who remain some of the most important people in my life.
So take your work and studies seriously – the grades you get and the effort you put in are the means to an important and rewarding end. But you won't find the help and strength you need to address life's most challenging situations and decisions in any of your books or notes. Your roots might not grow as deep as those of generations before you either – you might change cities and jobs several times before landing in the right place. That's why it's so important to invest in your relationships and appreciate everyone on this journey with you. Wrap yourself around them, help one another, and you'll continue to grow everyday that you live.