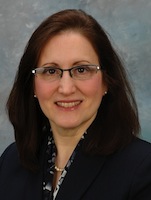 The sense of trepidation was palpable but not overwhelming. The larger-than-life President of John Carroll University politely waited for the young, student reporter seated before him to start the interview. Undaunted by his brilliance, she proceeded with her questions, relying on his goodwill. She survived and the story went to press.
I thought I'd hit the jackpot: interviewing JCU's new President, Rev. Fr. Thomas P. O'Malley, S.J., for the front page of an upcoming edition of the Carroll News in September 1980. Indeed, I was shocked that "my"editor had given me the top assignment.  After all, I was a new JCU transfer student, new to Cleveland, and new to CN.
The interview of Fr. O'Malley wasn't as much a "big break" as it was the experience that ignited my desire to pursue a degree in Communications at JCU and a journalism career. Thereafter, I sought big news stories on campus to prove to myself and my editor that I could handle the stories and him. My portfolio included breaking news and feature headlines of the day: the fire in "New Dorm" (Sutkowski Hall), the temporary loss of accreditation by the School of Business, a nuclear war convocation (which I simultaneously covered as a paid string reporter for the National Catholic Reporter), and many others. At times, the stories, and not my studies, were my focus.
It was good that I immersed myself in the affairs at CN because the job market in 1983 for print journalists was not promising. In fact, the early 1980s was a challenging time in the media. In 1982, Cleveland saw the demise of The Cleveland Press and the nation saw the tide turn to a new style of newsprint in the Gannett invention, USA Today, dubbed "McPaper". America's thoughts were to a future where print media had lost ground, and talk of replacing hard copy with electronically transmitted information had begun.
I struggled to find work in the world of journalism after graduation. My parents encouraged me to consider another profession. In particular, my father strongly encouraged me to try law school. A pragmatist and lover of education, he reasoned that law was a more stable and noble path than journalism.  For once, I listened to my father and after a stint in an advertising agency in my hometown of Rochester, NY, I returned to Cleveland a few years later to pursue a law degree at Cleveland-Marshall College of Law, and have been practicing law in Cleveland for over twenty years.
I believe that a significant benefit I received from my experience at JCU was being free to pursue different avenues of intellectual growth while being bound to a challenging core curriculum.  Emphasis on core learning is crucial because change happens and the constancy offered by the Jesuit educational model provides a solid foundation in life and the decision making skills required to navigate a sometimes uncertain path.