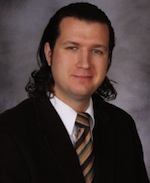 I was a failure.   I had quit my first job out of college at a local non-profit after a few short months.  I was a development and marketing coordinator.  Tasked with organizing golf outings, creating annual reports and inputting donations, I soon realized I was in over my head.  My boss was demanding and refused to offer any guidance.  I was frustrated and miserable.  So I quit.
I was a quitter.  A quitter saddled with rent, car payments, utility bills and student loans.  I was on the fast track to being a homeless quitter with bad credit.  This was not quite the future I had anticipated during the commencement ceremonies on the Quad.  With my self-esteem in pieces and the financial difficulties looming, the world was not my oyster.  The world was my rusty old trash can.
I was a disaster.  To make ends meet, I applied for a job at a local restaurant.  I wore a suit to the interview, and I stressed my liberal arts college education.  They must have been impressed by minor in philosophy because they gave me a position that had the least amount of responsibility possible: busboy. This was a small victory.
I was a very good employee.  I made sure my black pants, black shirt and black shoes were always clean and neat.  I learned my duties quickly and excelled at rolling up silverware.  I did not mind so much when patrons ordered me to fetch some extra crayons.
I was a witness.  As the months went by, I watched my friends succeeding in their careers.  They were earning master degrees and promotions.  I supplemented my busboy income by painting houses and substitute teaching.  Floundering and lost, I did what I could to stay afloat.
I was a scholar. The 6th century philosopher Boethius wrote, "Good fortune deceives. Adverse fortune teaches." In every instance of failure, there is a lesson to be learned.  This concept has been proven true in my life many, many times.  As I floated around in my failure, I let it teach me.
I was a student.  Our society focuses on success, and the risk of failure looms large.  We often do not want to risk being proven wrong or coming up short.  Social media adds to our insecurities.  We know more about our classmates' achievements than ever before.  We compare their lives to ours and judge whether we are "winning" or "losing" in life. We can be failures in life.  But we cannot be losers.  There is no race to win. Both success and failures are natural parts of the journey.
I was not alone.  Thomas Edison, Steven Spielberg, Vincent Van Gogh, Oprah Winfrey, and Steve Jobs all met with failure before finding success.  Five years ago I failed at my first job.   A lot of people told me to tough it out because quitting would be reckless and foolish. I needed to overcome the obstacle.  Instead, I quit.  In doing so, I received an opportunity to learn one of the most important lessons of my life.
I became an educator.  My substitute teaching guided me towards this vocation.  I did much more than float around for the rest of that year.  In the past five years I was a residence hall proctor, English and Theology teacher, retreat leader, detention moderator, graduate student, and currently, principal.  My failure taught me well.