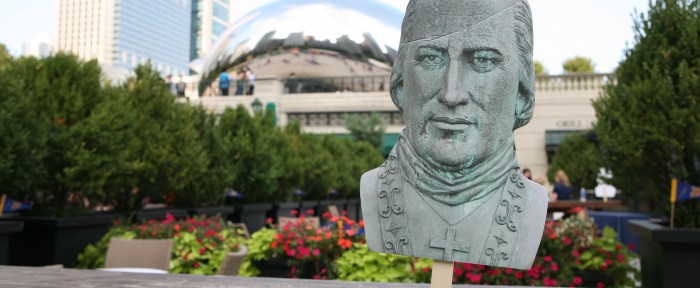 Since 1984, John Carroll University's Chicago Alumni Chapter has awarded a renewable scholarship to one area student who exhibits the most potential to become a student leader at John Carroll University. We are looking for students who have demonstrated leadership throughout high school.
The Chicago Alumni Chapter Scholarship will be awarded as a $5,000 per year scholarship – this scholarship is awarded in addition to your JCU merit scholarship, as well as the University's mission based scholarships (Arrupe & Leadership Scholars).The Chicago Alumni Chapter Scholarship is renewable for four years of undergraduate study, as long as the student maintains satisfactory academic progress.
This scholarship is funded in large part due to the generosity and fund raising of the JCU Chicago Alumni Chapter and many dedicated alumni in Chicago, in partnership with financial assistance from the overall financial aid budget at John Carroll University. The University administers the scholarship through an endowed fund.
2015 Chicago Alumni Chapter Scholarship Recipient
John Tucci, Class of 2019
John is the son of David and Joanne Tucci of Chicago, IL. He will graduate from St. Ignatius College Prep in Chicago, IL.
John is considering a major in education, communications and/or business. He is an Arrupe Scholars recipient and intends to be active in social justice and community service programs. John also hopes to play football for the Blue Streaks in the fall.

Congratulations John! Welcome to John Carroll University!
Requirements
1)     Student must submit a complete admission application to John Carroll University by December 1, 2015.
2)     Student will write and submit an essay of 500-1000 words on the topic of leadership. Describe your leadership qualities and philosophy and how you envision developing them further at John Carroll University. Students will also be asked to submit a detailed resume of their extra-curricular activities throughout high school. The essay and resume are due by the end of the day on January 22, 2016.
3)     A group of applications will be identified and selected for an in-person interview with the Scholarship Committee. Candidates will receive further information prior to the interview.
Note: John Carroll University's Office of Admission provides the names of qualified candidates, but is not involved in the selection process.
For more information on the Chicago Alumni Chapter Scholarship, please contact Erin Soroosh '99,
Regional Director, 216.905.9936 or esoroosh@jcu.edu.