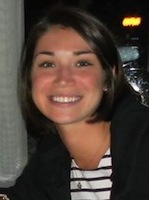 What have you been up to since you graduated from John Carroll?
I graduated John Carroll in 2009 and that summer moved to Chicago. My husband, Ryan Mekota, a 2007 JCU Grad, was receiving his Psy.D, studying Clinical Neuropsychology in Chicago. I first began working as an event planner for Pharmaceutical and Biotechnology conferences. I was then approached and hired as a project manager for a continuing medical education product for a growing Chicago company. Ryan finished school and we relocated right outside Rochester, NY for his internship. I continue to work as a project manager, remotely.
Why have you decided to come back to the Cleveland area?
Ryan has recently accepted a residency position in Cleveland. We are both thrilled to return home and be close to family.
You recently gained national media attention after bringing to light an exchange you had with a Cleveland professional regarding a LinkedIn request while trying to find a job. What positive things have you learned from this experience?
First and foremost, I have learned that Cleveland is the most genuine and helpful of communities. I have heard from senior professionals, business owners, and recent graduates alike. They have welcomed and made us feel a part of the community once again, despite our 5 year absence.
Secondly, I have had the opportunity to speak directly and learn about programs such as Global Cleveland and Engage Cleveland. Programs dedicated to young professionals and boomerangs such as myself. These programs deserve recognition for the work they are doing in the area. It was been a distinct pleasure to hear directly of their work and aspirations for the city.
Lastly, I have learned that social media is a very powerful tool. It can serve as both friend and foe and I encourage everyone to use it carefully.
How has the John Carroll alumni community reached out to you?
The John Carroll alumni community outreach has been amazing. When this story first began receiving attention, I heard from graduates of previous decades, those graduates who have moved to other states, and of course, from my own cohort. Each and every message was an offer to help in some way with my relocation, job search, network, etc. It has only confirmed that I made the right choice choosing John Carroll many years ago. The alumni have proven that my connection with JCU did not end in 2009, but that I will carry that connection with me throughout my career. I am so grateful to be a John Carroll alumnus.
Are you aware of the great things the JCU Office of Alumni Relations is doing to help alumni find jobs such as job fairs, Women's Mentoring Network and Student Mentoring database (coming soon)?
I would consider this also a positive lesson I have learned throughout the recent media attention. Rather than utilizing these tools, I began my job search on my own and neglected to utilize the programs at John Carroll. Throughout my recent connections and conversations, I have been educated on such programs. I have since applied for the Women's Mentoring Network as a mentee and look forward to learning from the wonderful experts in the area.
Can you offer any advice for job seekers in the current market?
First, never be afraid to reach out to senior professionals. As Cleveland, John Carroll Alumni, and my current position has taught me, many professionals welcome the opportunity to work with and help younger generations.
Second, no matter what position you're applying for, research extensively. Not only so you can have a better idea of the company/position, but so that you can ask direct and educated questions during an interview or phone call.
Final thoughts
I don't believe that any other city or community would have been as welcoming as Cleveland or the fellow John Carroll Alumni. It has been remarkable how this wonderful city has rallied behind, ensuring that not just myself, but all millennials and boomerangs consider Cleveland for their careers. I have had the honor of hearing from JCU Alumnus and City Councilman Joe Cimperman, simply to welcome me back home, Lisa Zone, who is not only a renowned professional but again an alumna who shared and encouraged me to apply for the Women's Mentoring Network and many more like them.
I thank everyone for reaching out and proving that this is a great city. Your kindness and support has been heartwarming. I also thank John Carroll for the opportunity to focus on our great community. I look forward to coming home.