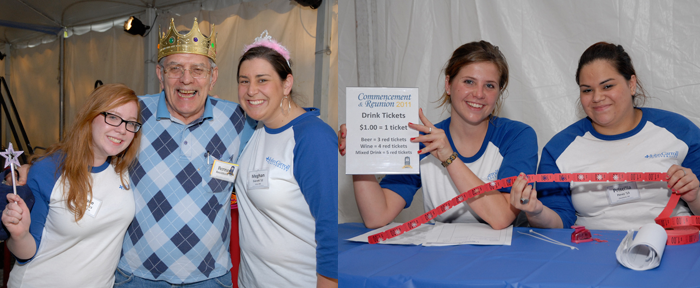 The Alumni Office is Now Hiring: energetic, hardworking, dedicated students to work who love JCU to work the annual Alumni Reunion Weekend June 19-21, 2015.
As a student worker, you will have the opportunity to:
Network with Alumni
Earn Money
Be an integral part of the tradition at JCU
Positions include:
Head Clerk: Responsible for creating a comprehensive schedule of clerk duties/assignments, communicate work assignments and task instructions to clerk staff. Work with a co-head clerk to supervise clerk staff throughout the weekend and ensure all tasks/assignments are completed. All other duties as assigned. (Previous Reunion experience required.)
Head Counselor: Responsible for providing guidance on the preparation of the Camp Carroll program, assigning camp counselors/groups as well as preparing and executing age-appropriate activities for campers during the event. Work with a co-head counselor to supervise counselors, campers, and program throughout the weekend.  (Previous Reunion experience required.)
Clerk: Various responsibilities, including but not limited to set up and take down for events, programs, and demonstrations; luggage delivery; registration; helping with shuttle service; assisting at dinners; miscellaneous errands; etc.
Camp Counselor: Responsible for a group of children throughout the weekend. Accompany and oversee children at camp programs, events, on and off campus and meals.
* All student workers must be available beginning at 4 p.m. Thursday, June 18, through 3 p.m. on Sunday, June 21.
* Students will not be able to leave campus during the weekend, unless instructed by a staff member.
* Student must attend ALL meetings scheduled before and throughout the weekend.
* If choosen as a Camp Counselor a student must go through a background and fingerpriting test


Application Process:
All applications will available online. Key dates for the applications are below:
February 19 – Clerk and Counselor Applications available.  Click Here for application
March 13 – Clerk and Counselor Applications due
April 21 – All hired student worker meeting