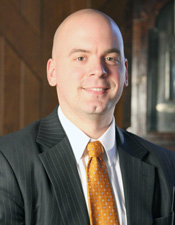 Dear John Carroll Alumni,
Welcome to the John Carroll Alumni Association website! The Alumni Association is an organization of over 40,000 members worldwide. Our experiences as graduates connect all of us in a very special way, so I hope you will use this website as a means to keep that connection current, no matter where life takes you.
Membership in the Alumni Association is free and takes effect the moment you graduate. Membership offers many benefits as your relationship with John Carroll should not end at graduation.  There is much the University can do for you throughout life and much that you can, and are encouraged to, do in support of your alma mater.
So I invite you to return to campus for Reunion and Homecoming; follow us on Facebook, Twitter and Instagram, support fellow Blue Streaks on the Alumni Business Directory, join the Student Mentoring Network, get involved in your hometown through one of our alumni chapters, help us recruit talented students to JCU or simply send a note to your Class Columnist to let us know of any big changes in your life. Your classmates will be happy to hear from you.
Thank you for visiting the Alumni and Friends website. Please re-visit this site often for updates on alumni news and events. When you return to campus, please stop by the alumni office located on the 3rd floor in Rodman Hall. The Alumni Relations staff loves to see alumni and share the latest happenings on campus. Finally, be sure to contact the alumni office staff with any comments or questions at alumni@jcu.edu or 800.736.2586.
Warmest Wishes,
Kyle Reynolds '99
President, John Carroll Alumni Association