Our alumni are the best resource for John Carroll students. Whether you would like to help recruit our future Blue Streaks or assist current students in their budding careers, there is plenty that you can do. Choose one (or both) of the options below to sign up to be an alumni volunteer:
---
Ambassadors Program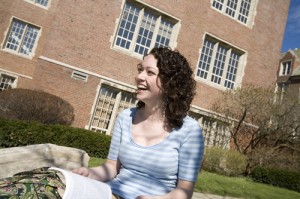 The Ambassadors program is designed to have our alumni engage with prospective students on a variety of levels. You can contact students via phone or email, represent JCU at a college fair in your area, or even host a JCU reception at your home.
Visit the Ambassadors program page to learn more and to register as a volunteer.
---
Carroll Contact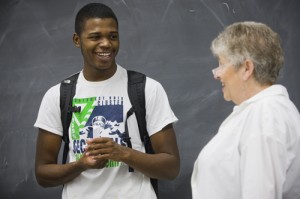 John Carroll University students and alumni are constantly seeking out opportunities to network with people who are already involved in their career field of interest. Whether that involves an informational interview, a job shadow, answering a couple of questions via e-mail or phone, participating in a panel discussion, or presenting to a class or student group, you can help us connect with those opportunities.
You can also help our students simply by telling them more about where you live and work. The number two thing students are looking for is information on working and living in a number of different locations. Whether you live in the Cleveland area, across the country, or around the world, we can connect you with a student interested in your geographic area.
To become a Carroll Contact through JCU's Center for Career Services, become a member of the group on LinkedIn.
---
Cleveland's Ignatian Volunteer Corps
Are you retired? Semi-retired? Would you like to make a significant contribution with your life to the lives of others? The Ignatian Volunteer Corps (IVC), in partnership with the Alumni office, is offering an opportunity for adult men and women to share their life skills and wisdom in direct service to the poor/marginalized. IVC volunteers work in local social service and educational programs.
A carefully guided process of reflection helps IVC volunteers to discover the deeper meaning of the work they do and to see the face of Christ more clearly in their experiences.
For additional information, please call 216-470-9470, email Cleveland@ivcusa.org or visit our website at www.ivcusa.org.