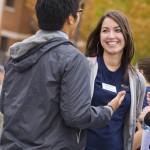 John Carroll University is an exciting place these days. Rev. Robert L. Niehoff, S.J., and his leadership team actively seek ways to improve John Carroll's name recognition. Our Enrollment and Integrated Marketing and Communications teams are collaborating on new strategies to attract prospective students to Carroll. With your help, we can reach more students in more areas. The Alumni-in-Admission Program encourages alumni volunteers to share their JCU stories with prospective students and their families.
Members of the Alumni-in-Admission Program can assist with recruitment efforts in a variety of ways. Alumni are needed to speak with prospective students at college fairs, to contact students via telephone and/or e-mail, and to host receptions for accepted students.
For more information, or to become an Alumni-in-Admission volunteer, please contact Erin Soroosh '99 (esoroosh@jcu.edu / 216.905.9936) if you live in Chicago or Indiana, Mallory Anthony (manthony@jcu.edu / 216.397.6620) if you live in the Mid-Atlantic Region or Tom Fanning (tfanning@jcu.edu / 216.397.4648) for all other areas.