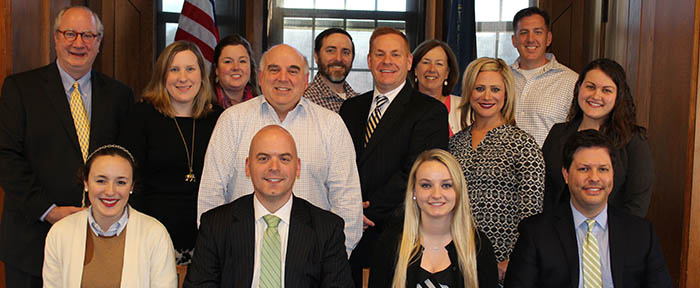 The JCU Alumni Association Board is composed of 9-12 alumni volunteers and as many as two current students who represent John Carroll University alumni worldwide. An advisory board, it provides support with programs, planning, and focusing the efforts of the JCU Alumni Association.
During a two-year term, service involves four meetings per year including two on campus meetings. Through committee work, the Board advises the Office of Alumni Relations on its alumni programming initiatives and helps promote those initiatives across the country. Committees typically focus on alumni engagement, resource development, student outreach, and recognition.
The Members of the JCU Alumni Association Board are:
John Carroll University is sincerely grateful to all those alumni who have served or are currently serving on the Alumni Board for their commitment to the University and to their fellow alumni.
To nominate yourself or a fellow alumnus/a for a seat on the Alumni Board, please complete the online nomination form. This is an open form, however we are currently on the two year cycle of selecting new members during the years ending in 5 or 7 (i.e. Summer of 2015 or 2017). If you have questions, please contact the Office of Alumni Relations at 216.397.4336 or alumni@jcu.edu.