Each year, the Alumni Awards program honors those who bring distinction to John Carroll University by the superiority of their talents and the selflessness of their service.
The Alumni Medal is the highest honor awarded by the Alumni Association each year at the Alumni Awards reception. It is presented to alumni who have distinguished themselves in their personal lives and careers, thereby reflecting well upon John Carroll's educational efforts, moral principles, and philosophical tenets. The Alumni Medal is not given posthumously.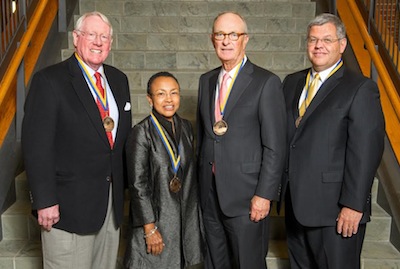 2014 Alumni Award Winners
Candidates are considered using the following criteria:
Distinguished service to their profession.
Exemplary family and personal life.
Contributions to their community.
Leadership service to the University and the Alumni Association.
Nominees are submitted by the John Carroll University community to a committee of former presidents of the Alumni Association. The committee selects the Alumni Medal winners, and recipients are recognized at the annual Alumni Medal Recognition Dinner and at Commencement in May.
2014 Alumni Medal Recipients:
In addition to the Alumni Medal, other prestigious awards are presented to accomplished alumni and students at the award program, including:
Campion Shield –  Dr. Charles J. Farrell, MD '59 and Rev. Catherine M. Farrell Norris '00
Young Alumni Award – Bridget M. Fitzgerald '10 and George A. Sample '02, '12G
Silver Quill Award – Raymond R. Rhode '55