Thomas P. Fanning
Director of Alumni and Parent Engagement in Admission and Advancement
tfanning@jcu.edu – 216.397.4246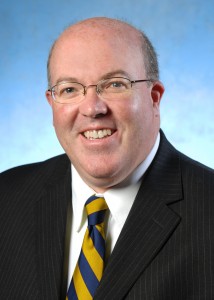 In a career spanning 25 years, Tom Fanning has served as Interim Dean of Enrollment Services, Director of Admission, Associate Director, Assistant Director, and Admission Counselor. Given his breadth of experience, Tom's expertise includes all aspects of recruitment, admission review, financial aid, and retention. He has delivered many presentations and served on various panels at national and regional conferences.
Through his career, Tom has held many leadership positions in professional organizations including president of the Ohio Association for College Admission Counseling (OACAC) in 2009-2010 and two terms as the president of The National Catholic College Admission Association (The NCCAA) from 2006-2008. Over the years, he chaired the Council of Jesuit Admission Directors (CJAD), the Ohio Private College Admission Directors (OPCAD) organization, the Ohio ACT High School Relations Committee and was twice elected to serve as an Ohio delegate to the National Association for College Admission Counseling (NACAC) national assembly.
Prior to his arrival at John Carroll in 1986, he worked in admissions at Canisius College. A native of Buffalo, N.Y., Tom graduated from Canisius High School and then earned a B.A. in Government and International Studies from the University of Notre Dame. Tom and his wife, Amy, live in University Heights. They have four children, a senior and junior at St. Ignatius High School, a freshman at Beaumont School for Girls and a seventh grader at Gesu School.