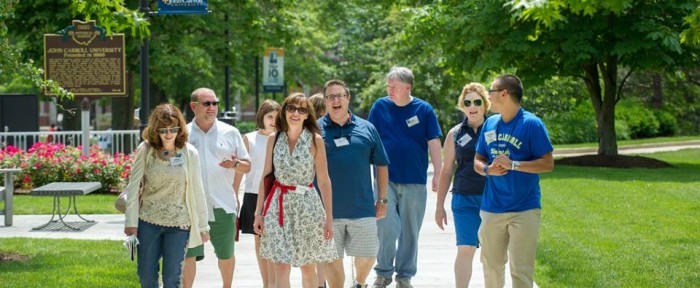 Whether you live in Cleveland, on the West Coast, in another country, or somewhere in between, the JCU Alumni Association makes staying connected to Carroll fun and easy. Discover all the resources that are at your disposal, just for being a JCU alumnus/a. In this section, you can update your information so that you can receive the latest information from John Carroll, connect with the Center for Career Services, read John Carroll magazine, and find out about other benefits and services available to you.
---
Alumni Business Directory
The Office of Alumni Relations invites all alumni-owned small businesses and services to submit their information on this public, consumer-friendly and searchable website.
Small businesses are generally considered the backbone of American ingenuity and impact local economies in cities and towns across the country. So whether it's a privately-owned company, a partnership, sole proprietorship, or home-based business, we encourage you to show your support for small business everywhere and especially those created, owned, and operated by fellow Blue Streaks.
---
John Carroll Mentoring Network
The Office of Alumni Relations is pleased to announce an exciting new initiative that aims to bring current students and alumni together in the spirit of mentorship. JCU graduates will have the opportunity to provide professional guidance to current students without the pressure and expectations of traditional mentoring programs. Whether it's a simple email exchange through our secure system, a phone call, or a cup of coffee, the commitment level is up to you. For more information and to register visit the Mentoring Network web site.
---
Alumni Continuing Education Series (A.C.E.S.)
The Alumni Continuing Education Series (A.C.E.S.) is a non-credit granting, personal enrichment series offered to alumni of John Carroll as a benefit and aims to stimulate intellectual growth by connecting graduates to the academic resources of their alma mater. The series features current and former faculty and other members of the John Carroll community.
---
Alumni Career Services
The Center for Career Services at John Carroll University offers lifetime privileges and assistance to all alumni free of charge. Services include job counseling, coaching, employment postings, and more. Visit the Center for Career Services website or contact Judith Aungst '89G at jaungst@jcu.edu or 216.397.4435 for more information.
---
Alumni Travel Program
The Office of Alumni Relations in partnership with the JCU Alumni Board has established the new Alumni Travel Program, a unique enrichment opportunity for John Carroll graduates and friends. Learn more about the latest trip.
---
John Carroll Magazine
Get your fill of everything Carroll by catching up on the latest news from John Carroll magazine.
---
Gold Streaks
The Gold Streaks are an unique and important group of alumni who graduated from the University 50 or more years ago. This group is an important part of the history, legacy, and tradition of the University. New members are welcomed each May at commencement and are celebrated each year at reunion.
---
Liberty Mutual Affinity Program
Did you know that you can get home and auto insurance at a discount just for being a John Carroll alumni? Find out more.
---
Library Card
As John Carroll alumni, you can apply for a library card to use in the Grasselli Library and Breen Learning Center. The card will entitle you to check out items and use materials on site only.  To obtain your Alumni Card, please contact Joan Brosius, manager of alumni records, at jebrosius@jcu.edu or 216.397.4332.
---
Prayer Intentions
Specific prayer requests can be offered by clicking here. All requests will be kept in a prayer intention book in Saint Francis Chapel. There will be a vigil light burning near this book to remind the John Carroll Community to pray for these intentions.
---
Real Estate Services/Relocation Assistance
Howard Hanna offers John Carroll faculty, alumni, staff, student and family members enhanced real estate services through the Hanna Gold Advantage Program. These services include discounts on real estate commission, mortgage and closing services and access to various retail services. Call the Hanna Gold Advantage Coordinator at 216.643.9767 or click here for more information.
---
Recreation Center Membership
Alumni Memberships are available for all graduates of John Carroll University. Memberships include access to Recreation Center facilities, including the RecPlex Gym, racquetball courts, swimming pool, diving well, Corbo Fitness Room, suspended jogging track, locker rooms, tennis courts, and outdoor track. Special pricing is available for families and alumni who have graduated within the last 5 years. Contact the Recreation Center at 216.397.3092 or click here for more information on memberships and hours.
---
Request Transcripts
The Registrar's Office is the official source for all alumni academic records. Alumni in need of official transcripts can find ordering information here. If you have any questions about the ordering process, please call 216.397.4395.
---
smile.amazon.com
John Carroll has teamed up with Amazon.com, which will pay the university a percentage of total monthly purchases. All you have to do is shop smile.amazon.com. By doing this, you will make a no-cost-to-you contribution to the Carroll Fund, directly benefiting JCU students.  Disclaimer: John Carroll University does not endorse any of the businesses on amazon.com.
---
Weddings at Saint Francis Chapel
JCU Campus Ministry welcomes alumni, students, and employees wishing to have their wedding in Saint Francis Chapel. To check availability and make a tentative reservation for your wedding, contact Campus Ministry at campusministry@jcu.edu or 216.397.4717.

---