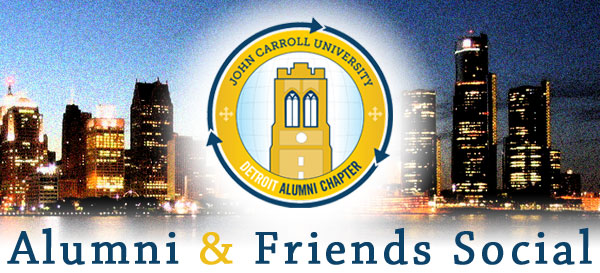 The Detroit Alumni Chapter invites you to join
fellow alumni, friends, current students and parents at an
Alumni & Friends Social
Friday, July 19, 2013
6:30 p.m.
Detroit Beer Company
1529 Broadway, Detroit, MI 48226
Come and welcome home the John Carroll class of 2013 and alumni who are new to Detroit. The chapter will also collect items for SS. Peter & Paul's Jesuit Church's Warming Center's supply closet. To learn more about the Warming Center and for a list of needed items, see the bottom of this e-mail.
To RSVP, please click here.
For questions, more information, or to get involved with the Detroit Alumni Chapter, please e-mail the chapter at detroit@jcu.edu.
————————————————————
About SS. Peter & Paul's Warming Center: The Warming Center has been the mission of Ss. Peter and Paul Jesuit Church since 1990. We are people in mutual service to and with our neighbors; many of who live on the street, and whose realities include addiction, grief, shame, fear, impoverishment and/or mental impairment. This mission is nurtured by Ignatian Spirituality, which is rooted in the spiritual experiences and writings of St. Ignatius of Loyola. This spirituality has been developed and adapted by Jesuits and lay people from its earliest beginnings. The core of the Spiritual Exercises of St. Ignatius of Loyola forms one's relationships with God, one's neighbor and oneself. The Warming Center offers the space necessary for building up these relationships.
Items needed include: New men's socks and underwear, women's travel deodorant (travel size), bathroom tissue, paper towels, two gallon and quart sized Zip-lock bags, air freshener, sanitize spray, 55 gallon trash bags, trial size soap bards, liquid soft soap, rags/old t-shirts for cleaning, coffee tins, coffee creamer (no packets), sugar (no packets), peanut butter, jelly, plastic spoons and forks.