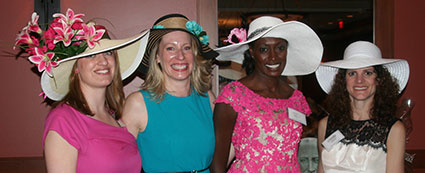 The Cleveland Alumni Chapter invites you to the
3rd Annual Derby Day Celebration
Saturday, May 2, 2015
5:30 p.m. – Cocktail Hour
6:24 p.m. (approx.) – Derby post time
Dinner and raffle will follow the conclusion of the race
LockKeepers
8001 Rockside Rd., Valley View, OH 44125
$65 per person/$455 for a table of 8
Includes appetizers, full course dinner,
dessert, party favor and two drink tickets.
Limited tickets are available.
(Save $65 when you purchase a table)
This exciting evening will include a cocktail hour while watching the Derby, a buffet dinner, as well as race sideboards and a raffle to benefit the Father Lavelle Cleveland Chapter Scholarship Fund, which benefits JCU students from Greater Cleveland.
Prizes will be awarded for the best
Derby-dressed lady and gentleman.
To reserve your spot, please click here
or contact Eric Eickhoff at 216.397.3061.
For questions, please contact
the chapter at cleveland@jcu.edu.