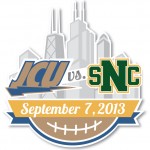 Join con-celebrants
Fr. Timothy Kesicki, S.J. '84, Provincial, Chicago & Detroit Provinces of the Society of Jesus
Rev. Robert L. Niehoff, S.J., President, John Carroll University
and Rev. Bernie McAniff, S.J.
for Mass at 9am at St. Ignatius College Prep
1076 West Roosevelt Road, Chicago
Brunch will immediately follow Mass in Tully Hall at St. Ignatius
Cost: $15 per person
There is a parking lot located just west of the high school on Roosevelt Road.