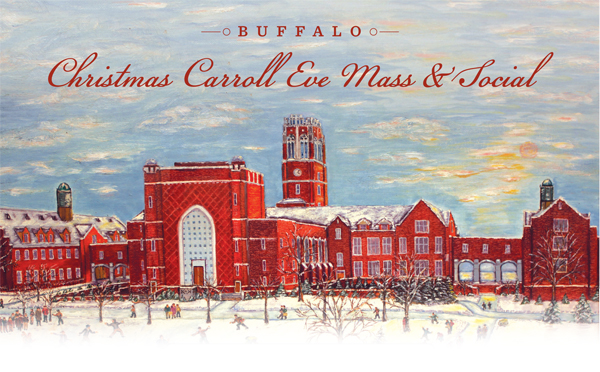 The Buffalo Alumni Chapter invites you and your family to a
Christmas Carroll Eve Mass & Social
Saturday, December 7, 2013
Mass— – 4:30 p.m.
Saint Joseph Cathedral
50 Franklin Street, Buffalo, New York 14202
Social – 5:30 p.m.
Pearl St. Grill & Brewery (basement)
76 Pearl Street, Buffalo, New York 14202
Appetizers provided, Cash bar
Celebrate the holidays with fellow members of the Carroll
community by attending Mass and/or the social gathering.
The chapter will be collecting children's books and
office supplies for the Buffalo Peace House. We hope you
consider supporting this worthy cause.
R.S.V.P. requested by clicking here.
For questions, contact the Buffalo Alumni Chapter at
buffalo@jcu.edu or Eric Eickhoff at 216.397.3061.
---
If you received an invitation to the Detroit Chapter event, please accept our apologies and we sincerely hope the error did not cause any inconvenience. Please feel free to contact us with any questions. Thank you!