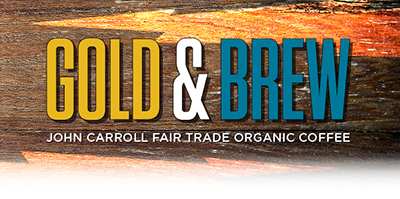 The John Carroll University Office of Alumni Relations is offering the perfect way to kick start your morning! Enjoy a cup of JCU Gold & Brew coffee and start your day with the streak of energy you need.
JCU Gold & Brew is a fair trade, ground, organic coffee and is just $12 per bag (12 oz.). A portion of the proceeds helps support The Carroll Fund, which provides scholarships to students in need.
Order yours today, click here. Supplies are limited!
For questions or more information, contact the Office of Alumni Relations at alumni@jcu.edu or 216.397.4336.
---
Shipping Information: $3 for 1-2 bags / $5 for 3-4 bags.
To avoid shipping costs, on campus pick-up is available at the Office of Alumni Relations from 9 a.m.-5 p.m.