Admission Events
Mar
30
Sat
Admitted Student Celebration
Mar 30 @ 8:00 am – 4:30 pm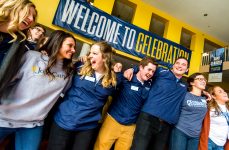 See why John Carroll University is a place where you belong
at our Admitted Student Celebration.
---
During this special day for admitted students and their families, you will meet your future classmates, learn about our strong academic programs, talk with students about life on campus, tour our labs, library and first- year residence halls and much, much more!
Schedule of Events
8:00 a.m. : Registration and Check-In Opens
8:30 a.m. – 9:30 a.m. : Academic Fair
9:30 a.m. – 10:30 a.m. : Welcome to John Carroll University Opening Ceremony
10:30 a.m. – 12:15 p.m. : Academic Breakout Sessions
11:30 a.m. – 1:00 p.m. : Lunch (Vegetarian and Gluten Free options available)
12:30 p.m. – 1:30 p.m. : Legacy Students and Families Dessert Reception
1:00 p.m. – 2:00 p.m. : Dessert Receptions
Dessert with Deans and Directors
Signature Scholars Programs:

Arrupe Scholars (by invitation only)
Honors Scholars (by invitation only)
Leadership Scholars (by invitation only)

First Generation College Students
Transfer and Commuter Students
2:00 p.m. – 3:00 p.m.
"The Blue Streak Connection" – a STUDENT ONLY Reception with Student Activities and Engagement Fair for Future Blue Streaks

"President's Reception for Parents & Families" hosted by John Carroll University President Dr. Michael D. Johnson and Jill Kobus Johnson
4:15 p.m. : Celebration Mass at St. Francis Chapel
Open All Day:
Campus Walking Tours: 9:00 a.m. to 4:00 p.m.

Office of Student Enrollment and Financial Services: 9:00 a.m. to 3:00 p.m.

University Bookstore: 9:00 a.m. to 5:00 p.m.
Specialized Tours: 1:00 p.m. to 4:00 p.m.
Residence Hall Tours

Laboratory Tours

Library Tours

Neighborhood Tours with Lolly the Trolley
Additional info
For our guests visiting from out of town:
More information will be posted to this page as it becomes available.
---