Admission Events
Nov
3
Sat
Blue Streak Preview Day (Fall Open House)
Nov 3 @ 8:00 am – 2:00 pm
Blue Streak Preview Day (Fall Open House)
Saturday, November 3, 2018
John Carroll University's Blue Streak Preview Day serves as an informative, enjoyable experience for students and families engaged in the heart of the college search and application process. Our faculty, students, and staff will make sure your questions are answered so you leave ready to take the next step.
Held in the fall , our Blue Streak Preview Day is an open house-style event that allows all students (transfers and high school students) and families the opportunity to explore John Carroll in greater depth. You will be able to discover for yourself what sets JCU apart during our fall open house.
SCHEDULE OF EVENTS

7:30 a.m. – (Optional) Campus Tour
8:00 a.m. – Check – In begins in the Kulas Auditorium in the Administration Building
8:30 a.m. – Welcome to John Carroll University
9:00 a.m. – Academic and Engagement Fair
9:20 a.m. – (Optional) Lab Tours
10:00 a.m. – 11:15 a.m. – College Presentations by Boler College of Business, the College of Arts and Sciences and the Office of Admission and Financial Aid
11:30 a.m. – 12:30 p.m. – Signature Scholars Program Overview, Transfer Students to JCU, Campus Tour, or Office of Admission and Financial Aid presentation
12:00 p.m. – 2:00 p.m. – Lunch
12:30 p.m. – 1:30 p.m – Blue Streak Student Panel, Campus Tour or Office of Admission and Financial Aid presentation
*Rain or shine. Please bring an umbrella in case it rains*
Click HERE to register!
---
Dec
18
Tue
2019 Spring Transfer Event
Dec 18 @ 11:30 am – 2:00 pm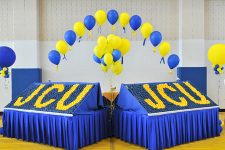 Whether you have decided to attend John Carroll this spring or are still making a final decision, this is an opportunity to meet other spring 2019 transfer students, ask any last minute questions you have about John Carroll, and enjoy lunch.  You can also take an optional campus tour led by one of our student tour guides.
Itinerary
Check-In (11:30 a.m.)
Welcome & Lunch (12:00 p.m.)
Optional Campus Tour (1:00 p.m.)
Please RSVP by Thursday, December 13th HERE. 
Don't forget, if you are already committed to John Carroll, you will still attend Transfer Registration Day on January 11th to register for classes.
Mar
30
Sat
Admitted Student Celebration
Mar 30 @ 8:00 am – 4:00 pm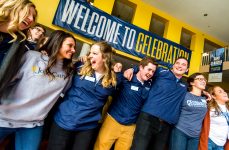 See why John Carroll University is a place where you belong
at our Admitted Student Celebration.
---
During this special day for admitted students and their families, you will:
Meet your future classmates
Learn more about our strong academic programs from professors and advisors
Talk with students about life on campus, including student organizations, campus ministry, service, and study abroad
Tour our labs, library, and first-year residence halls
Discover more about our connections to Cleveland.
Sit down one-on-one with a financial aid professional to have your questions answered
Additional info
For our guests visiting from out of town:
Celebration Eve (more information forthcoming)
More information will be posted to this page as it becomes available.
---