Admission Events
Oct
28
Sat
Homecoming and Family Weekend Visit Day for Prospective Students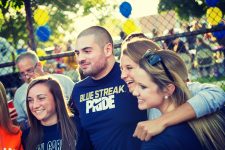 Saturday, October 28, 2017
Homecoming and Family Weekend Visit Day gives prospective students and their families a glimpse of the excitement that surrounds Homecoming and Family Weekend at John Carroll University. This serves as a  chance to see the Blue Streak pride that defines our community.
During this visit day, you will engage in a walking tour of campus, learn the John Carroll story, have the opportunity to participate in our football tailgate and attend our homecoming football game in Don Shula Stadium.
All legacy students (parents, grandparents or siblings must be a John Carroll Alum) will receive a special gift by mentioning their legacy status and completing the questions in the registration form.
The agenda for Homecoming and Family Weekend Visit Day is as follows:
10:00 a.m. – Check-in opens- Dolan Science Center
10:45 a.m.-12:15 p.m. – Campus Tour and Information Session
12:15 p.m.-1:15 p.m. – JCU Blue Streaks Football Tailgate (coupons provided for food trucks)
1:30 p.m. – Homecoming Football Game vs. Muskingam (tickets are complimentary)
 Click HERE to Register!
Nov
4
Sat
Blue Streak Preview Day (Fall Open House)
Blue Streak Preview Day (Fall Open House)
Saturday, November 4, 2017
John Carroll University's Blue Streak Preview Day serves as an informative, enjoyable experience for students and families engaged in the heart of the college search and application process. Our faculty, students, and staff will make sure your questions are answered so you leave ready to take the next step.
Held in the fall and designed primarily for high school seniors (juniors are still welcome to attend), our Blue Streak Preview Day is an open house-style event that allows visitors the opportunity to explore John Carroll in greater depth. You will be able to discover for yourself what sets JCU apart during our fall open house.
Check-in begins at 8:00 a.m. and we will conclude all activities by 2:45 p.m.!  The full agenda will be available mid-October.
Meet with your future professors to discuss your academic interests.
Speak with students and staff to learn about the programs, activities, services, and opportunities that will shape your JCU experience.
Learn about our Signature Scholarship Programs.
Tour our science labs, residence halls, athletic facilities and more.
Ask questions of your future classmates to hear about life as a Blue Streak.
Enjoy a complimentary lunch.
TO REGISTER, PLEASE CLICK HERE.