When you submit your application for admission, you'll automatically be considered for merit scholarships, which are awarded based on your classroom performance, standardized test scores, and extracurricular involvement. You will be notified of your scholarship at time of admission.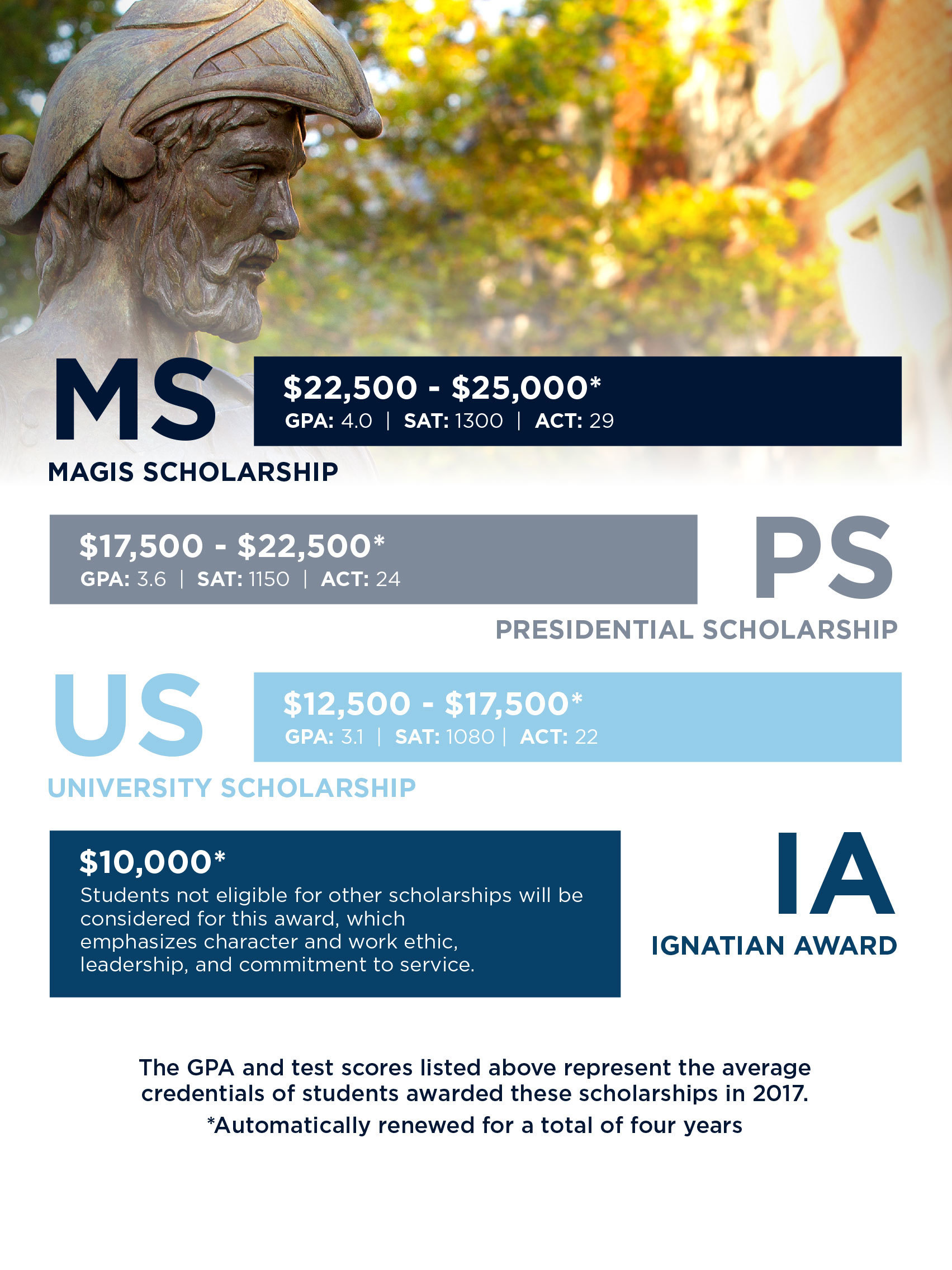 ---
Annual Amount*

GPA

SAT

ACT

Magis Scholarship 

$22,500–$25,000

4.0

1300

29

Presidential Scholarship

$17,500–$22,500

3.6

1150

24

University Scholarship

$12,500–$17,500

3.1

1080

22

Ignatian Award

$10,000

Students not eligible for other scholarships will be considered for this award, which emphasizes character and work ethic, leadership, and commitment to service.
The GPA and test scores listed above represent the average credentials of students awarded these scholarships in 2017. *Automatically renewed for a total of four years
---
Merit Scholarship Appeal Process
Merit scholarships are based on a student's GPA through 6 semesters of high school work (through the end of junior year of high school) and the highest subcomponent scores among any and all results of either the ACT or SAT that we have on file AT THE TIME OF ADMISSION AND MERIT REVIEW*.
For applicants who meet the Early Action/Priority Scholarship admission application deadline of December 1, a request may be made to have their merit scholarship award reconsidered by the Scholarship Committee, but only under the following conditions:
NEW/UPDATED standardized test scores are submitted; appealing your scholarship because you received a higher one from another institution WILL NOT be considered.
A complete financial aid package (based on results from the FAFSA) has not yet been awarded to the student. Once a complete financial aid package has been awarded, ALL financial appeals must be submitted according to the financial aid appeal process.
Scholarship appeals should be submitted in writing to the applicant's enrollment manager.
*It is the applicant's responsibility to make sure we have any and all score results that they want us to consider before we review their application.