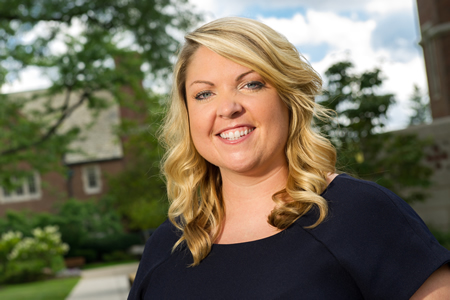 Regional Associate Director of Enrollment
On JCU's enrollment staff since 2013
Hometown: Norman, Oklahoma
High School: Norman North High School
Degrees: B.A. (communication), Rockhurst University; M.A., Webster University
Hobbies and Interests: Going to concerts, traveling, shopping, museums, and art. I also do improv comedy for fun.
Guilty pleasures: Reality TV shows. I hate that I love them!
Favorite thing about JCU: The people and the Jesuit background. Everyone is so nice and looking out for you and that stems from the Jesuit values of caring for the whole person.
Favorite places in Cleveland: Melt. Best grilled cheese you will ever have in your life!
Advice for prospective students: Be open and organized. Ask many questions and visit multiple times if you can. The more you feel comfortable with a school, the more confident in your decision you will be!
I serve as the enrollment manager for students and families from:
Ohio (Central Ohio)
Mid-Atlantic and Eastern Seaboard (Delaware, District of Columbia, Maryland, New Jersey, North Carolina, South Carolina, Virginia)
New England (Connecticut, Massachusetts, Maine, New Hampshire, Rhode Island, Vermont)
New York (Capital District, Hudson Valley, Downstate NY including New York City and Long Island)
Pennsylvania (Central and Eastern PA including Harrisburg/Philadelphia/Allentown/Scranton)
South (Alabama, Arkansas, Florida, Georgia, Louisiana, Mississippi, Tennessee)
Puerto Rico, Virgin Islands
I would love to chat with you! Please contact me anytime: