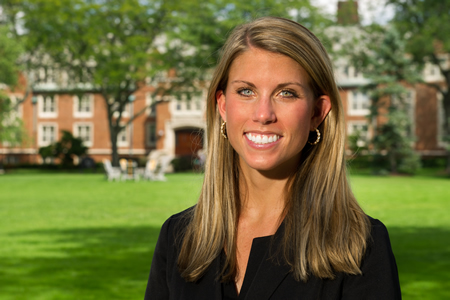 Assistant Director of Enrollment
On JCU's enrollment staff since 2011
Hometown: Stow, Ohio
High School: Stow Munroe Falls High School
Degrees: B.A. (public relations), Baldwin Wallace University; M.A., The University of Akron
Hobbies and Interests: Cooking, trying new restaurants, swimming, running, yoga, and reading.
Guilty pleasures: Spending hours grocery shopping, ice cream, and touring college campuses.
Favorite thing about JCU: The opportunities available to make a positive change in Northeast Ohio, around the world, and within ourselves.
Favorite places in Cleveland: Lake Erie, Progressive Field, Ohio City, and Legacy Village.
Advice for prospective students: The key to the college search is to know yourself. There are many colleges and universities to consider, so to help narrow your selection ask yourself what type of institution is the best "fit" for you academically, socially, professionally, and spiritually. College will be your new home and you want to make sure you're in the best environment for you to succeed.
I serve as the enrollment manager for students and families from:
Ohio (Carroll, Medina, Portage, Stark, Summit, Tuscarawas, and Wayne Counties; Central Ohio)
I would love to chat with you! Please contact me anytime: